While trotting into the end zone for his first touchdown as an Eagle, cornerback Asante Samuel had an unlikely escort.
Linebacker Stewart Bradley, who had perhaps his best game of the season in a 30-10 win over the Cleveland Browns at Lincoln Financial Field, made sure Samuel secured that touchdown.
With the two ready to celebrate, Samuel inexplicably let go of the football before he seemingly crossed the goal line. Instead of preening for the lights of Monday Night Football in front of a national television audience, Bradley was left to not-so-politely remind Samuel to retrieve the ball.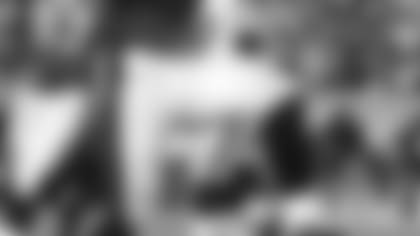 LB Stewart Bradley
It was the only time Bradley didn't seem happy all night long.
"We didn't do our celebration, that's what he was mad about," Samuel said. "He wasn't really worried about the ball."
Bradley was worried about the ball the rest of the night, however. He recorded the first interception by an Eagles' linebacker this season, led the team with six tackles and routinely disrupted the Browns' offense in its own backfield.
Bradley's play was almost a microcosm of the Eagles' defense as whole. It seems as if the defense hasn't given up a meaningful touchdown in the last three games, meaning it, like Bradley, have been playing downhill.
The Eagles held the Browns' offense to just three points on Monday night - their lone touchdown came on an interception return. They also held Cleveland to just 57 yards rushing.
"We kind of gave one up at the end there," Bradley said. "But I feel like we're capable of playing this kind of defense and this has shown throughout the year."
The team hit its lowest point of the season in the second half of the loss in Baltimore in Week 12. That was most certainly the defense's darkest hour; they gave up 24 fourth-quarter points in a 36-7 loss.
With nowhere to go but up, the Eagles' defense rallied together and it has been playing very well as of late. They've only surrendered one offensive touchdown in the last two games.
"I feel like we're finally jelling and we've finally got to the point where we want to be," safety Quintin Mikell said. "We still made mistakes and all, but for the most part we're playing at a high level and as long as we can continue to do that, we'll be fine. It's just we can't get complacent. We have to keep getting better each week, which we've been doing."
Dawkins has noticed the same thing since the win over Arizona on Thanksgiving night. He thinks the Eagles have developed a strong bond because of the adversity they have been through together this season.
"It's very important because what happens is in tough situations, if you have confidence that you're going to be able to come out and win it, the tough situation is not that tough," free safety Brian Dawkins said. "It's just a challenge and that we can overcome. If it's a challenge that you think you can't overcome, now it's a pressure situation. And so we feel like any situation that is brought our way, we're going to be able to overcome it and make a positive, hopefully a win. We're going to snatch a win out of the jaws of defeat."