There is considerably more space in the Eagles locker room now than there was throughout the last few months of summer. When the team's roster limit stood at 90 players, temporary lockers lined the middle of the locker room while some players shared locker space.
With the roster now at 63 players, including the eight members of the practice squad, the temporary lockers are gone for the most part and everyone has a locker to themselves. There are, however, several new faces in the Eagles locker room after a topsy-turvy few days of transactions.
Three members of the practice squad spent their Training Camps elsewhere around the league, while two additions to the 53-man roster arrived after being claimed by the Eagles off waivers.
The good news for cornerback Shaun Prater is that despite spending his entire two-year NFL career in Cincinnati before arriving in Philadelphia, he has three college teammates to help his get acclimated in the Eagles locker room. As an Iowa Hawkeye, Prater joins former position mate Bradley Fletcher and offensive linemen Julian Vandervelde and Matt Tobin.
Of course, Prater, 5-foot-10, 190 pounds, was not brought to the Eagles to make friends. He was imported to add talent to a group of cornerbacks that were hit hard by injuries late in the preseason.
"Very aggressive and smart, the type of guy that will study the wide receivers and the entire team so I can play fast," Prater said, when asked to describe his playing style. "Usually I don't get tired and I just try to compete every single down.
"Once you get into the league, you have to be able to adapt to certain situations. I'm just trying to transition smoothly."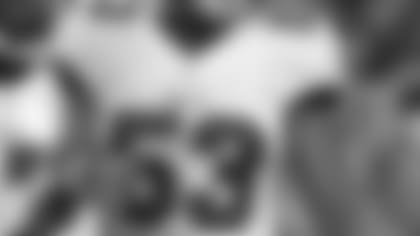 Linebacker Najee Goode was claimed off waivers from the Tampa Bay Buccaneers on Monday and is now one of three backup inside linebackers for the Eagles. General manager Howie Roseman has described Goode as an athletic cover linebacker who, the team believes, can grow into a specialized role as a nickel linebacker.
"I play hard," Goode said, describing his style of play. "I play physical. I give the defense some speed at linebacker. I know a lot of people say I'm not a big linebacker, but I can thump and hit. I'm bringing that to Philly, just be versatile wherever they need me."
While Goode may not have any college teammates on the Eagles, he was nonetheless welcomed with open arms by his new position group – specifically by DeMeco Ryans.
"I heard he was the leader here," Goode said of Ryans. "He stepped up and introduced himself to me. The coaches told me to pay attention and watch him and that's what I've been doing - just trying to learn from him."
While Prater and Goode hustle to learn the intricacies of their new defense, they have other responsibilities. As head coach Chip Kelly made abundantly clear on Wednesday, backups on the Eagles have a responsibility to contribute to special teams.
Both Prater and Goode have special teams experience in punt, punt coverage, kickoff and kickoff coverage.
"I have a lot of experience with special teams. I played that in Tampa. Wherever they need me on special teams, if they need me on the outside or inside, anything I can pretty much do it," said Goode. "Basically it's about the hardest, fastest guys playing to the ball."