There is a method to the madness that is new head coach Chip Kelly's practices. There is a science to it all from the loud, blaring music to the fast-paced tempo.
Kelly's time on the football field is valuable. He wants all of his players to get plenty of reps because you never know when injuries will cripple team's depth at any position. During a Routes Vs. Air drill during Monday's OTA, all five of the Eagles quarterbacks were throwing a pass to a different receiver on the same play. Kelly is also trying to mimic game situations and play faster so that by the time Sundays in the fall get here the game actually slows down.
"You can't practice full speed the entire time you're out there. It's got to be short bursts, but the game of football is short bursts," Kelly said. "It's really an anaerobic sport when you look at it because you're going hard for five to six seconds then you take a break and that's what we're trying to get accomplished with these guys."
For the first time, Kelly offered the media a window into the world of his practices. Kelly said that Monday's workout was the same install practice that was held back on April 16 when the Eagles held the first of three pre-draft OTAs. Kelly was pleased he didn't see a lot of "mental busts," as he put it, despite the fast-paced tempo and the music blaring which could easily serve as distractions.
"They want to learn. They want to play. They want to have fun doing it," Kelly said. "For us, it's been fantastic being around them because they want it."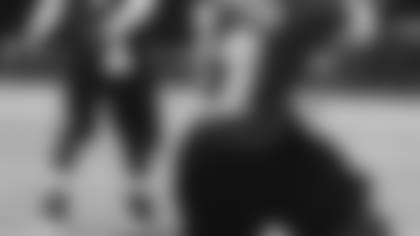 Certainly, Kelly was asked about potential depth chart alignments which were visible during practice. Kelly stressed that the first-team reps for quarterbacks Mickael Vick and Nick Foles were virtually even. Dennis Kelly, not first-round pick Lane Johnson, worked in as the first-team right tackle. However, Kelly said not to read too much into anything because the regular season is still months away.
"It's May 13th," he said. "I don't think we play the Washington Redskins until some time in September.
"We've got a long ways to go before we ever set a depth chart or do anything like that. We're so early to make evaluations of who's who. By the time we get to June, we have a pretty good number of snaps where we can start to evaluate, start to kind of slot some guys, kind of see where we are at for the preseason camps."
Kelly did reveal that the defense will be a hybrid scheme showcasing looks with both three-down linemen and four-down linemen. At the same time, the Eagles have to figure out who can do what. Monday's OTA allowed players like Trent Cole and Brandon Graham, who are working more out of the two-point stance, to show how the transition is going for them. The outside linebackers will need to be able to set the edge, rush the passer and drop back into coverage.
"We have to figure out who that is and that's part of the whole process," Kelly said.
Players have previously intimated that the relay system used to send in playcalls will expedite the process. Unlike at Oregon, Kelly has the benefit of communicating directly with the quarterback through a radio. Offensive coordinator Pat Shurmur talked with the quarterback through the radio and two people - one on each side of Shurmur - sent in signals. Kelly said that not everybody gets their information from the signals.
Kelly said that center Jason Kelce took part in the entire Phase 2 portion of the offseason program. Kelce took part in individual drills and stretching, while also working out on a side field during Monday's OTA, which is part of the Phase 3 of the offseason program.
Cornerback Cary Williams was not present after he got married on Sunday. Curtis Marsh took the first-team reps at right cornerback, while Bradley Fletcher was on the left side.
For the majority of Monday's OTA, the first-team defense featured Cedric Thornton, Isaac Sopoaga and Fletcher Cox on the defensive line, Connor Barwin, Mychal Kendricks, DeMeco Ryans and Trent Cole at linebacker and Fletcher, Marsh, Patrick Chung and Nate Allen in the secondary.
Kelly wants to take an extensive look at a number of options at punt returner from DeSean Jackson and Jeremy Maclin to Damaris Johnson, Russell Shepard and Nick Miller.
Kelly understands that the practices with the 90-man roster will be different in-season when there are at most (factoring injuries) 61 players.
When asked how Johnson was progressing, even though he didn't work with the first-team offense on Monday, Kelly said, "He's been here for three days, so for three days he's been the best offensive tackle we've ever drafted."
Kelly has been impressed with quarterback Matt Barkley's development.
"Really thought he picked things up quickly. He's an extremely hard-worker. He's here every morning at 6 AM working at whatever it is to work on," Kelly said. "I think he's got a great football background first and foremost. He started four years in high school. He started four years in college. That's rare. He's been through a lot. It showed up in interviews. He's got a lot of experience even though he's a rookie."
Kelly said that Barkley should come in with the mindset that he can win the starting job.
"I would hope anybody that came into this place isn't sitting here and saying, 'I think I'm going to be a good, solid backup,'" Kelly said. "I want our guys to come in here and show us everything they can do."
Two rookies, tight end Zach Ertz and cornerback Jordan Poyer, will miss the remainder of offseason workouts due to their schools' late graduation dates. Kelly said that there is no way to estimate the impact, but the team provided a lot of information for them to take back with them.