The Eagles got back to work on the practice field Wednesday with a spirited practice in front of an excited group of fans. Here's the rundown of the day's events ...
Offensive lineman Todd Herremans returned to practice Wednesday to regain his spot as the first-team right guard. The starting five along the line remained together for only a short time, though, as left tackle Jason Peters left practice with a mild right hamstring strain. He is day-to-day.  
Five players missed practice Wednesday: wide receiver Arrelious Benn (hamstring), wide receiver B.J. Cunningham (foot), defensive tackle Antonio Dixon (hamstring), cornerback Cary Williams (hamstring) and cornerback Brandon Hughes (hamstring). Head coach Chip Kelly sais following practice that he expects Benn to return to practice very shortly.
As Training Camp moves further along, there's an expectation that the blurry battle for the No. 1 quarterback job will become clearer, that either Michael Vick or Nick Foles will being to emerge as the leader in the race. But that's not necessarily the goal, at least according to Vick.
"We're not looking for separation, we're looking for improvement," Vick said. "I think that's the most important thing right now, if we can go out and make strides each and every day and continue to get a grasp of this offense, then you'll see guys separating themselves. We take pride in what we do. We take pride every time we step out there, whether we're with the 1's, 2's or the 3's, we want to look good."
Wednesday looked to be a good day for Vick, who was sharp throughout practice until his very last throw – a touchdown toss to DeSean Jackson near the corner of the end zone that was ruled a catch by head coach Chip Kelly. Vick also showed off his legs Wednesday, tucking the ball and running more than he has over the past week.
"It was just all on feel," Vick said of his increased penchant for running on the day. "The ability to feel the pass rush, feel guys moving and to make the plays when deemed necessary. Not to put the team in a bad situation and just to remain consistent and move the ball."
Nick Foles, like Vick, views the competition as a step-by-step process. He too refuses to get ahead of himself.
"I look at my meeting coming up as the most important thing," Foles said following practice. "That's how I've always approached everything is the next thing I have in line, I treat that as the most important thing. That way you don't put the games or anything on a pedestal, you just gradually work as hard as you can and make everything important and by game time you've prepared and made everything important that you're supposed to and you can just go out there and play. The ultimate thing is how you play in the game honestly, but how you prepare and how you work towards performing in that game beforehand is the most important."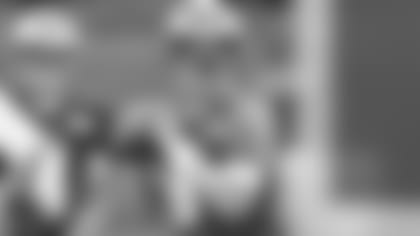 As Foles and Vick, like the rest of their teammates, become more comfortable in the offense, they begin to prefer certain plays. So Kelly has come to both to ask which plays they feel most comfortable with.
"I think in different situations, there are plays that you lean on and coaches want to call plays that we're comfortable with because they know that if we're comfortable and we're good at running that play then there's a better percentage that we'll perform in a stressful situation, say two-minute (offense), or the clock's coming down and it's fourth down-and-8 or something," said Foles. "They want a play that we know is our bread and butter. So it's great when a coach asks you what you like in those situations. It's very refreshing.
"To have the opportunity to run the plays that you like, to make suggestions, it only gives you comfort and the ability to put the teams in the right situations," said Vick. "I think that's the relationship that coach is developing with all the quarterbacks. We embrace that. We don't take it for granted. We understand that if we're asked a specific thing to do or what we like that it's imperative that we make sure we're 100 percent right on it all the time and we know we can get it done. That's just part of our growth process and developing the trust in us."
What You Missed On The Field
The action started quickly during Wednesday's practice with the first taste of one-on-one hitting following the full-team stretching period. Running backs, wide receivers, tight ends, safeties, cornerbacks and linebackers faced off against each other as the offensive player held the ball before a staged collision in a short area. Before a gallery of spectators, ball carriers took on defenders while trying to either slip by or power through a tackle.
With cones set up about three yards apart to represent the sideline, running backs were urged by coach Duce Staley to stay inbounds. Chris Polk showed his trademark power and was able to lower his shoulder to bounce off the tackler, while DeMeco Ryans was the standout star of the linebacker group. He had several plays where he stood up the ball carrier and drove him backwards, showing perfect form and strength. This was really the first time all Training Camp there was that "crunch" sound of players going full speed and pads smashing together. Connor Barwin laid a big hit on former Cincinnati position-mate Brent Celek, for which Celek took some time to be examined, though he would return to practice. Brandon Boykin also showed impressive physicality for a cornerback while taking down the likes of Ifeanyi Momah.
Running back Chris Polk continues to show soft hands and catches everything thrown his way out of the backfield. He's a decisive, one-cut runner who's quick to and through the hole – a "see the hole, be the hole" type of runner. Polk has been impressive of late and has caught the eye of head coach Chip Kelly "I think in the last couple of days you've really seen Chris show up. He had a great practice when we were in the stadium. Hit a couple of nice runs today," said Kelly following practice. "He really truly understands the blocking scheme, so he's patient in terms of understanding, letting the blocks develop. But when he sees them, then sticking his foot in the ground and taking off. I think the last couple of days he's really come across."
Safeties David Sims and Earl Wolff were the first-team twosome. On the first play, Sims nearly had a tough interception off a tip of a short Michael Vick pass but was unable to the secure the ball. A few plays later he read Vick, got a great break and recorded a nice pass breakup. Sims has been active and aggressive and is rewarding the coaches' faith in him.
"They see that I come to play," said Sims, following practice. "I told them when they first got here that I'm trying to be the guy and I work hard to do it. I've been overlooked over the past year so I'm trying to step in and be the guy. I'm trying to do the work to help the team."
Sims added that the coaching change has benefited players like him who could be considered on the fringe.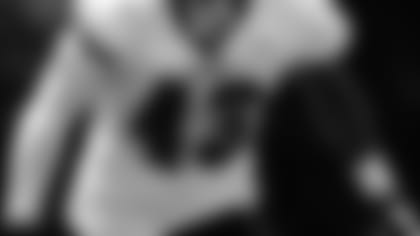 "I like it because everybody has a fair chance," he said. "Everybody gets the same opportunity, it's not just that guy, he's here already, he's got the contract already, he's the guy and forget the rest."
Wide receiver DeSean Jackson beat Jordan Poyer on an inside move and got free deep down the seam. Michael Vick lofted a perfect pass 40 yards in the air that hit Jackson in stride.
Quarterback Nick Foles showed perfect anticipation and timing, often releasing the ball right as the receiver started his break. The ball was there by the time the receiver turned around and defensive backs had no chance to make a play.
Wide receiver Greg Salas looked good again today, showing the speed, route running and soft hands that have come to define his consistent performance.
The defensive line stole the show early on, moving well laterally as a group to stuff two stretch attempts by running back LeSean McCoy.
Cornerback Brandon Boykin continued his sticky coverage ways, this time blanketing wide receiver Russell Shepard on a curl and diving in front to knock a pass down along the sideline. He made another nice play against Shepard on a deep throw to the back of the end zone, jumping and knocking the ball away just as Shepard got his hands on it.
DeSean Jackson took an end-around handoff and made a sharp cut through the hole just outside the tackle box. He accelerated and hit the second level with speed.
One formation saw three tight ends on the field. Brent Celek lined up at H-Back, James Casey in-line and Zach Ertz flexed out to the slot.
Wide receiver Nick Miller, who was re-signed Tuesday after being cut on July 24, made a nice diving catch near the sidelines.
Wide receiver Damaris Johnson was virtually uncoverable again. No defender has been able to stay with him throughout Training Camp, whether short over the middle or deep down the field. Johnson also shook Kenny Phillips with a juke along the sidelines after receiving a quick pass.
Cornerback Curtis Marsh, who took Cary Williams' spot as the outside corner opposite Bradley Fletcher with the first-team defense, had an excellent pass breakup against Riley Cooper in the back corner of the end zone. Foles threw the ball high where it looked like only Cooper would be able to get it, but Marsh jumped and got his hand in front of Cooper's to knock the ball away.
Foles' best pass of the day sublimely accentuated his feel for timing and accuracy. He lofted a beautiful touch pass over David Sims' fingertips and in between a converging Mychal Kendricks and Earl Wolff to Jason Avant, who double-caught the ball but managed to tap both feet inbounds at the back of the end zone.
Quarterback Michael Vick built on his Monday performance and had perhaps his best day of practice thus far. He was decisive and sharp with his reads; the ball was out quickly and his throws were accurate. Some on-the-money passes were dropped, though Russell Shepard made a great diving catch on an out route and then showed strong hands on a quick slant that was squeezed between two defenders for a touchdown. Vick made every throw -- short, deep, sideline, tight-window -- and was slinging the ball all over the field. He ended practice with a perfectly-placed deep fade to DeSean Jackson, who beat cornerback Trevard Lindley, in the back right corner of the end zone for a touchdown.
Quarterback Matt Barkley's most noteworthy moment came on a good read during the red-zone drill. With a free blitzer bearing down, Barkley fired a pass to the back of the end zone that was slightly behind Nick Miller, who, though covered tightly, was able to get his hands on the ball but couldn't haul it in.
Safety Colt Anderson had the biggest defensive play of practice. He lurked over the middle less than 10 yards beyond the line of scrimmage and baited Nick Foles into thinking he had his running back open. It may have been a botched option route, but Anderson read Foles' eyes anyway, broke on the play and stepped in front to intercept the ball and return it for a touchdown.
*Dan Klausner, Chris McPherson and Bo Wulf contributed to this report. *