The Eagles returned to action at the NovaCare Complex on Sunday after a day off on Saturday. That day off allowed some previously injured players to return to the field, most notably wide receiver Arrelious Benn ...
Tackle Jason Peters returned to the practice field for the Eagles on Sunday after suffering a hamstring injury Wednesday, but he re-injured it and left practice again early. With Dennis Kelly also sidelined with a back injury, first-round pick Lane Johnson took over at left tackle. Head coach Chip Kelly indicated that at this point Johnson would be the backup at left tackle to Peters since Kelly is more comfortable on the right side of the line.
Wide receiver Arrelious Benn made his long-awaited return to the field as well after suffering a knee injury on July 26. Benn drew rave reviews from Kelly in his first workout not showing too many signs of rust and functioning in the offense despite running through certain plays for the first time.
Running back Matthew Tucker left practice early due to a hamstring injury.
Cornerbacks Bradley Fletcher (groin) and Brandon Hughes (hamstring) also were back in action.
Five players missed practice due to injury. The newest addition was tight end Zach Ertz, who was sidelined with a shoulder injury. Wide receiver Dave Ball (quad) was out along with offensive linemen Ed Wang(knee) Kelly (back). Defensive tackle Antonio Dixon (hamstring) was also unable to take part in the workout.
What You Missed On The Field
Cornerback Brandon Hughes had his best day of practice thus far. Early on, he showed instincts and awareness by coming off his man in the flat and knocking away a pass intended for tight end Brent Celek along the right sideline. Hughes followed that up with an excellent diving interception of quarterback Matt Barkley on a deep throw.
Quarterback Nick Foles made a number of nice seam throws where he put the ball where only his receiver could get it. The one that stood out most was a perfectly-placed high pass to Celek in a window between two defenders. Foles excelled with faking handoffs and then immediately hitting his first read. He also made a nice back shoulder throw to wide receiver Ifeanyi Momah, who got inside position on cornerback Jordan Poyer to make the catch, and showed impeccable timing on a comeback to wide receiver DeSean Jackson near the right sidelines.
Quarterback Michael Vick hit the flyswatters a few times on throws over the middle but otherwise looked confident and crisp with his passes throughout practice. He connected with Momah on a post route after the 6-foot-7 receiver found a soft spot in coverage. Vick hit tight end James Casey with a perfect throw down the seam; a few snaps later he rolled out to his right and connected with DeSean Jackson on a deep curl. Vick was also able to get outside and turn the corner on a couple runs.
Quarterback Matt Barkley continues to build on each practice performance and improve. He's showing NFL-quality anticipation, timing and touch and also seems to be throwing the football with more authority and zip. A few throws stood out, in particular: 1) Perfect deep ball down the slot to wide receiver Russell Shepard, who made a fingertips catch inside the 10-yard line (Shepard had another nice catch deep later after getting inside position on cornerback Bradley Fletcher) 2) Bullet pass over the middle to fullback/tight end Emil Igwenagu in between two defenders 3) Strong throw on a slant 15-20 yards downfield to wide receiver Will Murphy; the ball was out as Murphy made his break, and there was no chance for the defender to make a play despite having fairly tight coverage.
Wide receiver Jason Avant showed off sure hands and deft body control, smoothly making a number of difficult adjustment catches while putting himself in position to turn upfield.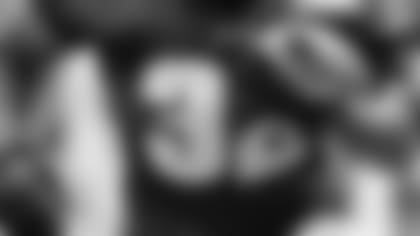 Wide receiver Greg Salas makes plays every practice. He worked back toward the ball in one instance early in practice to create separation, then ran a beautiful post corner route and made an over-the-shoulder catch on a throw from quarterback Dennis Dixon. Salas is not flashy, but he's a savvy route runner with good hands who could carve out his niche as a dependable chain-mover.
Tight end Derek Carrier returned to practice after missing the last few with a shoulder injury and was back to normal, creating separation, getting open and making catches all over the field.
Cornerback Curtis Marsh had suffocating coverage deep down the sideline and got his head around to track the ball in the air. The receiver was unable to get inside position and the pass landed harmlessly a few yards out in front.
Wide receiver Nick Miller made a diving catch over the middle and was zipping all over the field. If we're lucky, he and DeSean Jackson will go head-to-head in a 40-yard dash race sometime after practice before Training Camp is over.
Cornerback Brandon Boykin has not fallen off at all. He displayed sticky coverage down the field a number of times and had a few pass breakups.
Had there been full contact, cornerback Cary Williams put himself in position to blow up receivers at the catch point on more than one occasion by reading the quarterback and coming off his man.
Safety Colt Anderson had a few noteworthy pass breakups, the most impressive of which came on a deep pass to wide receiver Damaris Johnson down the slot. Johnson had easily beaten outside linebacker Brandon Graham and was streaking toward the end zone. Nick Foles launched the pass, but Colt Anderson came over from his spot in the middle of the field to knock the ball away at the last second. Graham thanked Anderson for "bailing me out on that one" as they exited the field after practice.
Inside linebacker Emmanuel Acho had a nice pass deflection while roaming over the middle in zone coverage.
Outside linebacker Chris McCoy continues to excel in coverage. He was able to hold his own against receivers throughout practice and nearly made an interception.
Running back Bryce Brown displayed vision in finding holes and cutback lanes and is showing maturity as a runner to complement his incredible size-speed-power combination.
Running back Chris Polk caught everything thrown his way during practice. Again.
Inside linebacker Casey Matthews looked good in pursuit and flowed to the football. He ran 10 yards from his inside linebacker position to meet running back LeSean McCoy in the hole on a stretch play as McCoy tried to turn the corner.
The best play of practice came toward the very end, when inside linebacker Mychal Kendricks showed off his explosive athleticism by leaping high in the air to intercept a Nick Foles pass near the left sideline.
"Mychal Kendricks' skill set is great to blitz, but Mychal Kendricks' skill set is great to cover," head coach Chip Kelly said after practice. "I would argue he may be our best cover linebacker. So you're kind of caught in that.
"You look at the play he made, the dive and catch on the interception, I'm not sure we have another linebacker with that skill set. So it's tough when you have that – I shouldn't say it's tough. It's nice to have a guy that has that skill set that can do both. So I think we've got to be conscious of, yeah, he's great to bring on blitzes. But he's also great in coverage, so we have to mix and match. But the ability, what it ends up being for Mike, is he's truly a three down linebacker."
Barwin An Example For LB Converts
Connor Barwin played his first season in the NFL as defensive end with the Houston Texas. Following the 2010 season, Barwin was moved to a 3-4 outside linebacker, the same position where he now finds himself in Philadelphia. Barwin says his recent transition to linebacker will be very helpful to players like Trent Cole and Brandon Graham, who are now attempting to make the same change in defensive coordinator Bill Davis' scheme.
"I'm still learning too," Barwin said after Sunday's practice. "This is a new position for me too. I think that helps everybody. It helps Trent and Brandon that I can talk about the change that I went through, going from a 4-3 end to a 3-4 (linebacker), and I can tell Trent and Brandon how that was if they ever feel like it's not working."
Barwin has been very vocal out on the field during the first couple of weeks of camp. While leadership is a big part of his game, the fifth-year pro out of Cincinnati says that sometimes he's just talking to keep himself entertained.
"I don't really think about it," Barwin explained. "When I'm out there, that's the most fun that I have all day so I get excited. I think that offense is fun to play against, and I have no problem talking out there, and it helps for me because if I don't talk out there, practice takes way too long. So if I can try to have fun out there, it makes it move a little bit faster."
Barwin also says that his experience as a defensive end will certainly come in handy with the Eagles, because his versatility will make things easier for Davis as he tries to implement a new defense that could have many looks.
"It's pretty even, but I think that will be true of the game," Barwin said. "Everyone that says they run a 3-4, to be completely honest with you, everyone plays a hybrid. You go into an even front sometimes when it's third down, or an odd front in certain situations, and that's the same thing that we're doing out here. In certain passing situations, (Coach Davis) is calling even fronts and I'm playing defensive end, and there's other team periods where he's calling odd fronts, and I'm back to outside linebacker. Practice is a lot like what's going to happen in the game, in terms of being pretty even."
The Quarterback Report: A Pivotal Week Begins
On Tuesday, the New England Patriots will join the Philadelphia Eagles at the NovaCare Complex for the first of three days of joint practices before Friday's preseason opener at Lincoln Financial Field. As the Eagles quarterbacks continue to jockey for position on the depth chart, this will be their first test against another defense. Head coach Chip Kelly hasn't decided who will start Friday nor has he determined the total amount of reps for each of the five quarterbacks. What will make Kelly's decision tougher is his admission that the two veterans who are splitting the first-team reps, Nick Foles and Michael Vick, and rookie quarterback Matt Barkley all shined in Sunday's practice.
"I thought they all played really well," Kelly said after Sunday's practice. "I was encouraged with the entire team to come back. We had Saturday off, but I thought the energy out there today, there was a real good give and take by both sides of the ball, so I think all of them on today had a pretty good day."
Kelly continues to look for the quarterback who will consistently orchestrate the offense at the highest level. He knows that the quarterbacks will go through their ups and downs throughout the course of Training Camp. Last year, Foles went under the radar as a rookie in Training Camp practices, but shined when the preseason games started and won the backup job outright.
"Practice is extremely important. This is where you develop your fundamentals and get your reps, but you've got to be able to play in the game and do it on the field and do the right things on the field in the heat of the moment," Foles said. "The games are extremely important. That's the most important thing of all."
Foles showed as a rookie that he'll throw into tight windows to get the ball down the field. In this Training Camp and with this offense, Foles strives to improve taking what the defense gives.
"If I can throw it downfield, I'm throwing it downfield. That's what I want to do," Foles said. "If they take that away, we have to, as quarterbacks, know in our mind where our check-down is and get it to him because a lot of times that's a huge play waiting to happen."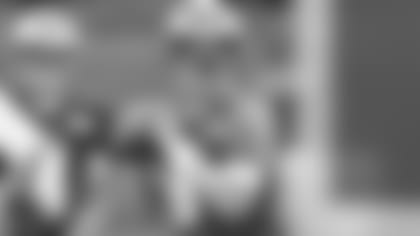 One of the many new aspects of practice this year is the "flyswatters" worn by members of the equipment staff during 7-on-7 drills. The height of the blockers is designed to simulate the reach of a 6-foot-4 defensive lineman. Kelly utilizes this drill because quarterbacks can get into the habit of dumping off passes during the drill at an angle that won't work in a game situation.
"I think as far as sliding, finding lanes, up and over with the throws, it's going to help me. At some point, it's going to pay dividends for me," Vick said after joking he put two in the swatters on Sunday. "It's embarrassing when you do it in practice. It's not a moving target. You throw it at a moving target and then you hit something that's still. I think it will help. The first day Chip put them out, I complained about it and he said the more you complain, the more I'm going to keep it out here. I have to deal with it and it's been helping me and now I don't even pay attention to it. At times, we don't exactly know what we think we know."
Better to get the knockdowns out of the way in practice, right?
"Simulating it in practice right now and going out in the game, it's going to help," Vick said. "I'm excited about this football team. I'm excited about what we have. I'm excited about coming to work every day. That's the energy that I needed to get myself back on track and not just for myself but for this football team that I just want to help win games."
Foles and Vick have gone back and forth working with the first-team offense while Barkley, the team's fourth-round pick, hasn't had much of an opportunity. Short-term thinking might lead Barkley to believe that it truly isn't an open competition at quarterback. However, Barkley knows that can all change once the preseason games begin.
"I'm looking at it as being important, nonetheless, as a way just to gain more traction in this race and just to prove what I'm capable of," he said.
Why is Barkley so confident that he can still win the job?
"Just the fact that it's open and there hasn't been named a starter," Barkley said.
Dan Klausner, Chris McPherson, Alex Smith and Bo Wulf contributed to this report.