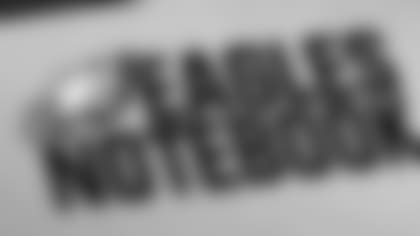 McNabb's Milestones ... With 26 completions, QB Donovan McNabb broke the team record for most completions in a single season. He now has 333 in 2008, breaking his record of 330 set in 2000. McNabb also has thrown for 3,741 yards in 2008, 135 shy of breaking his own team single-season record of 3,875 in 2004.
The Book on the Rook ... WR DeSean Jackson caught 2 passes for 14 yards and now leads the team with 60 receptions and 866 yards this season. His 60 receptions are the most ever for an Eagles rookie wide receiver and his 866 yards are 2nd most by any rookie in team history, trailing Keith Jackson (869 yards in 1988). The last Eagles rookie wide receiver to finish the season as the leader in receptions and yards was Fred Meyer in 1942 (16 receptions for 324 yards and 1 touchdown). The last Eagle rookie of any kind to lead the team was Keith Jackson (81 in 1988).36 West ... RB Brian Westbrook had 71 receiving yards on the day, giving him 3,597 for his career, surpassing Keith Byars (3,532) for 10th place in team history and first among Eagles running backs ... Westbrook has 886 rushing yards this season and is 114 yards shy of becoming the second Eagle in team history to compile three straight 1,000-yard seasons (Ricky Watters did so from 1995-97).
Green Akers ... K David Akers connected on his 30th field goal of the season, tying a team single-season record (Akers in 2002 and Paul McFadden in 1984). With 130 points this season, Akers is four points shy of breaking his own single-season Eagles record of 133 points in 2002.
Sacking the 'Skins ... DEs Trent Cole and Darren Howard each registered their team-leading ninth sack of the season. Cole surpassed Dennis Harrison (34) and moved into eighth place in team history with 34.5 for his career ... DE Victor Abiamiri registered his second career sack and first career forced fumble.
Birdseed ... T Jon Runyan played in his 143rd game as an Eagle, moving past Ron Jaworski and into 11th place in team history ... Brian Westbrook played in his 98th game as an Eagle, tying Duce Staley for fourth place among Eagles running backs.