Here is a position-by-position look at the offense after the final roster cutdown …
Only one quarterback in the NFL has a longer tenure as his team's starter than Donovan McNabb, Indianapolis' Peyton Manning. McNabb enters his 10th season and this promises to be a historic year. McNabb spent most of 2007 season trying to round back into form after tore his ACL in 2006. Now that he's fully healthy, McNabb is on the verge of breaking the all-time franchise records for yards and touchdowns. The five-time Pro Bowl quarterback is set to prove that he is still one of the biggest threats in the NFL. He owns the third best winning percentage among active quarterbacks and is one of only seven players in NFL history to have at least 25,000 passing yards and 2,500 rushing yards. McNabb had an outstanding preseason and looks to carry that performance over into the regular season, where he won six of his final eight starts in 2007.
Kevin Kolb emerged from the preseason as the backup quarterback and his efficient performance against the Jets showed why. As the preseason evolved, Kolb's command of the offense improved. Against the Jets, Kolb directed three scoring drives. The Eagles' top draft pick in 2007 might have run a spread offense in college, but his footwork, quick decisions, field vision and accuracy are all ideal for the West Coast scheme.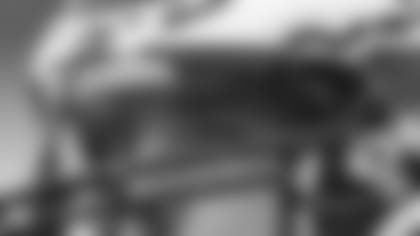 OT Jon Runyan
A.J. Feeley is a more-than-capable veteran who has an extensive knowledge of Reid's offense and the courage to throw the ball in tight spots. He threw for a career-high 345 yards last season in the loss to New England.
Brian Westbrook had a season for the ages in 2007 as he broke the team records for receptions and yards from scrimmage, a stat in which he led the entire NFL in. Westbrook proved to be one of the league's most exciting playmakers last season with his speed, vision and quickness. He even made headlines when he decided not to score (the slide at the Cowboys' 1-yard line to seal the win). However, offensive coordinator Marty Mornhinweg said that the Eagles put too much of the load on Westbrook last season. In the past two seasons, Westbrook has touched the ball 322 times and 372 times, respectively.
The Eagles traded a fourth-round draft pick to Miami to acquire Lorenzo Booker. With his speed and ability to catch the football, Booker's skill set is very similar to Westbrook's. As a rookie last year, Booker was most effective as a receiver, catching 28 passes for 237 yards. Look to see Booker excel in a similar role as he was split wide frequently during training camp.
Correll Buckhalter is a powerful slasher out of the backfield. Buckhalter subbed in for an injured Westbrook last season against the Giants and had 103 rushing yards and 138 total yards from scrimmage. In all, Buckhalter averaged 5.0 yards per carry last season and he's looked sharper and quicker than in years past.
After the crash course to learn the fullback position, Tony Hunt played well enough in the final two games to win the most hotly-contested position battle of the summer. Hunt's experience as a tailback allowed him to make a smooth transition to fullback in terms of the playbook. While he brings an added dimension to the position from an offensive standpoint, it was his play on special teams that helped earn him the opportunity to win the job. The coaches still want him to improve on his blocking, but his willingness to jump into the position so late in the preseason has to be admired.
It remains to be seen how the loss of Kevin Curtis to a sports hernia injury will affect the wide receiver corps. Kevin Curtis was the Eagles' big free-agent acquisition prior to the 2007 season and he delivered the best performance of his career, as he recorded career highs in receptions (77), receiving yards (1,110) and touchdowns (8). In fact, Curtis became just the second receiver to post at least 1,000 receiving yards during Andy Reid's tenure. Curtis' speed allows the potential for any catch to become a big play.
Rookie DeSean Jackson had an outstanding preseason. The second-round pick from Cal was second in the preseason (to former Eagle Billy McMullen) with 16 receptions for 189 yards. And remember, he didn't even play in the preseason finale. His speed and route-running ability more than make up for his lack of size. Can Jackson be this successful when the games count? Remember that the coaches can draw up ways to involve Jackson that they wouldn't want to show in the preseason.
Another boost to the receiver corps will hopefully be the return of Reggie Brown, who missed the last two preseason games with a hamstring injury. He is scheduled to be back for the season opener. Brown set a new career high in 2007 with 61 receptions. A solid all-around receiver, Brown caught fire at the end of last season with 22 receptions for 262 yards in the final four games. To be a more consistent and dependable receiver in 2008, he has spent the offseason catching 100 balls a day.
Jason Avant is a physical slot receiver, who was arguably the Eagles' best red zone threat in 2007. The key for Avant is staying healthy. A groin injury forced him to miss time in 2007 and held him back from reaching his potential.
Hank Baskett is a 6-4 receiver with a long stride, who added quickness as he shed some pounds in the offseason. He also added the strength needed to be a factor in the red zone. You didn't see it much in the preseason, but the Eagles practiced utilizing Baskett on fade routes all throughout training camp. He sacrificed his role as a big-play receiver to chip in as a blocking tight end last season when the Eagles were undergoing protection problems up front. Baskett was also the Eagles' Special Teams MVP in 2007.
Greg Lewis is well-versed in the West Coast offense and has the speed to stretch the defense. He averaged 20.4 yards per catch in 2007. A former rookie free agent, Lewis has carved out a nice career with 108 catches for 1,452 yards and six touchdowns – three of which came last season.
When healthy, L.J. Smith has all the tools of a wide receiver with the size to overpower an opposing secondary. When he's hurt, the pain is reflected on the scoreboard when the Eagles struggle in the red zone. In 2007, Smith battled groin and knee injuries and was far from 100 percent. He had 22 catches for 236 yards and only one touchdown. In the previous two years combined, Smith had 111 receptions for 1,293 yards and eight scores. All 16 of his career scores have come in the red zone, which is where the Eagles struggled mightily in 2007. Playing under the franchise tag tender, Smith is healthy, more mature and motivated to turn things around in 2008 and looked the part in the preseason.
Brent Celek showed a lot of promise as a rookie in 2007. The fifth-round draft pick had eight catches for 103 yards in the final three games of the season, including a 29-yard grab to help seal the win at Dallas.
Matt Schobel enters his seventh NFL season and fourth with the Eagles. He provides big-play potential as he has recorded receptions of 76 yards and 60 yards during his career.
Jon Runyan and Tra Thomas have played a franchise record 118 regular season games as the tackle tandem. It will be the ninth season that the two are paired up together. Will it be their last? Runyan, who is 34, and Thomas, who is 33, are both in the last year of their respective contracts.
Two-time Pro Bowl guard Shawn Andrews may arguably be the best guard in all of football. The 335-pound "Big Kid" is the man who Westbrook runs behind when he needs the tough yards. Andrews missed most of training camp due to his bout with depression. But he returned to action in the preseason game at New England and certainly did not look rusty.
Todd Herremans might have struggled at left guard in 2007, but when the coaches made it clear that he would be challenged for his job Herremans responded to the call. Herremans arrived at Lehigh in outstanding shape, had an excellent training camp and preseason and nailed down his spot.
Jamaal Jackson anchors the offensive line from the center position. A physical and nasty presence, Jackson was a mainstay of the Eagles offseason conditioning program to get in better shape and increase his speed. Jackson wants to use 2008 to redefine the center position since he is the biggest starting center in the NFL.
Mammoth Max Jean-Gilles, a fourth-round pick in 2006, stepped up in Andrews' absence and showed that he is ready to be a starting guard in the NFL. Andrews himself said that he wouldn't have been surprised if he lost his job to Jean-Gilles because of the way he was playing. Jean-Gilles suffered a knee sprain in the preseason finale, his status for the season opener is unknown.
Nick Cole is a valuable presence on the line because of his ability to backup Jackson at center and slide out to guard if needed. The former rookie free agent has also been utilized as a goal-line fullback. He made his first regular season start against the Giants last season and was part of the team's only touchdown drive of the game before giving way to Herremans.
Winston Justice is the primary backup to Runyan at the right tackle spot. The former second-round pick has found his home after the Eagles tried to make him a left tackle.
Mike McGlynn impressed the coaches enough to win out a spot. What helped the fourth-round pick is the fact that he played both tackle and guard at Pitt. His physical nature will translate better into a guard at the pro level, but to help himself out he has also worked out as a center. His nasty streak has been compared to that of Runyan's, but he was also an ironman like Runyan in college having started 43 straight games.