When Donovan McNabb last walked off a football field on which he played in a playoff game, he walked off Jacksonville's Alltel Stadium following the loss to the Patriots in Super Bowl XXXIX.
Almost four years later, McNabb makes a triumphant return to the NFL postseason and he doesn't expect his hiatus to have any effect whatsoever.
"It's just like riding a bike," McNabb said. "I think when you look at it in that way, as a player, now you're focusing on the wrong thing. Obviously, I've missed, due to injury and us not making it last year, but I'm just excited about the opportunity of getting back out there and playing. And, the team's looking forward to this opportunity, playing in a hostile environment like Minneapolis. It's going to be exciting."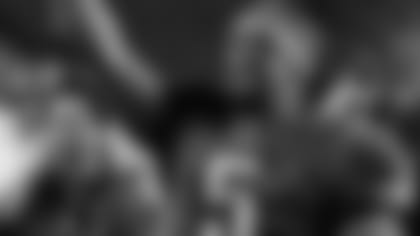 QB Donovan McNabb
Six weeks ago, there were questions about whether or not McNabb would finish the season as the Eagles' starting quarterback, let alone whether or not the Eagles were going to qualify for the playoffs.
But McNabb ignored the critics and piloted the Eagles to four wins in the team's last five games. In the process, it seemed as if vintage Donovan McNabb had re-emerged.
"I think Donovan's in a great place mentally and physically," head coach Andy Reid said. "He's managing the football team very well. I think he'll prepare like crazy this week. He's got experience in the playoffs. He can manage it. He understands what goes into it. Once you get into the playoffs, you're playing top quality football teams; in his case, preparing for a top-quality defense."
Minnesota has that and much more. The Eagles will also have to contend with the NFL's leading rusher (running back Adrian Peterson), the league's top-rated run defense and one very loud stadium.
For veterans of playoffs battles, that's not that much of a big deal. For playoff first-timers, it's just one of things for which they need to be prepared.
"I've talked to them," Reid said. "Thank goodness for veteran players and veteran coaches. They're able to also talk to them. I've said what I wanted to say to them and I'll leave it at that. They'll understand by the time we get there."
Running back Brian Westbrook, a veteran of seven playoff games in his career, said he spoke to wideout DeSean Jackson, who's about to garner his first playoff experience.
"I compliment him on the things he has been able to do this year," Westbrook said. "He has made a lot of big plays for us, a lot of yards for us. He remained focused throughout the whole year. Now, he needs to know that the level of play and the level of competition is going to step up dramatically for this next playoff game and the one after that as well. He has to stay on task, stay focused throughout the whole week and go into the game and give everything he has."
It doesn't matter how much playoff experience a player has if he doesn't have the ability to focus on the task at hand.
"Everything is a little more intense," Reid said. "You got to focus in. You're on the road, so you have to focus in even a little bit more. Make sure you're sharp in practice. Obviously, you can't wait until you get there and can't get caught up in all the hype and all those things that go on during the week. Not quite as many games being played this weekend, so you get a little bit more media attention. Put all that aside and focus on what you can control and what you can get better at and that's the game plan."