Jason Peters is a man of few words. He prefers to let his actions speak for themselves.
Peters has been used to effectively delivering his message as a five-time Pro Bowl and four-time All-Pro selection. However, Peters could only watch from afar last season. He ruptured his Achilles tendon twice and missed the entire season. He chose to not to speak to reporters simply because he didn't want to talk. He wanted to perform.
Well, Peters broke his silence on Tuesday. He told reporters that he is "100 percent" healthy and plans on returning to his All-Pro form in 2013.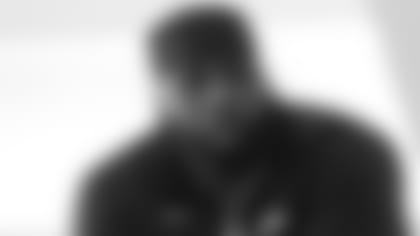 "I'm not going to go out there if I can't go 100 percent and be back where I was before I got hurt," Peters said.
Peters first incurred the injury on March 27, 2012 while working out in Texas. He said he was doing kickbacks and simply thought that his shoe had come undone. He continued to run and it wasn't until he stopped that he realized what he had done. He underwent surgery, but in May he re-injured the Achilles in a freak accident involving the roll-a-bout scooter which was designed to help him.
It was back in early December when Peters felt ready to return, but with the Eagles out of playoff contention the coaches held him back. Peters said he could practice today if he had to. He said he tips the scales at 345 pounds, which is right around his typical playing weight, but wants to slim down to 320 by Training Camp to be prepared if new head coach Chip Kelly wants to run 100 plays a game. Doctors told Peters that there is "no risk" in returning to action and the worst-case scenario would be only a two percent loss of strength in the tendon.
Tuesday was the first day of workouts for the Eagles and Kelly has the offensive linemen doing drills that weren't done in the past including 40-yard dashes, hurdles and ladders to work on their quick feet.
The return of Peters will go a long way in improving the offensive line, which struggled with multiple injuries last season. Peters was one of three starters along the line to end the year on Injured Reserve along with center Jason Kelce and right tackle Todd Herremans. As one of the most accomplished players on the Eagles, Peters understands his role as a leader on the team. A rookie free agent signing of the Bills in 2004 as a tight end, Peters was considered the best left tackle in football before his injury. However, Peters has not experienced a playoff win in his storied NFL career.
"Me being out there carries everybody else and makes them play their best," he said.
Last year's struggles resulted in a new coaching staff led by Kelly. The offensive line is now overseen by Jeff Stoutland, who built the nation's best unit at the University of Alabama. The Crimson Tide ran an inside zone scheme, but Peters is unsure what Stoutland will do in Philadelphia. It should be noted that Kelly ran the inside zone at Oregon, as well. Former offensive line coach Howard Mudd brought the best out of Peters, who will now only look to build upon the foundation that Mudd helped provide.
"I'm not going to throw away what Howard Mudd did," Peters said. "I'm just going to add on what Coach Stoutland gives me."