When safety Brian Dawkins first started watching Quintin Mikell practice with the Eagles in 2003, he saw a little bit of himself.
Mikell went undrafted that year and, after signing with the Eagles as a rookie free agent, Dawkins could tell how hungry Mikell was.
At the time, Mikell was a quality special teams player but Dawkins knew Mikell was capable of much more.
Now, Mikell is starting alongside Dawkins and he's led the Eagles in tackles for two straight games.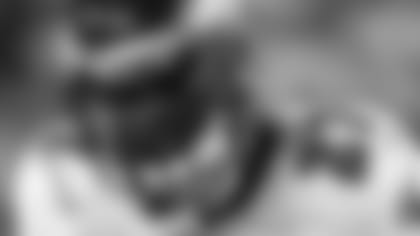 Mikell waited a long time to become a full-time starter in the NFL
"Q's been ballin'," Dawkins said. "I've had high expectations of him doing exactly what he's doing for a while now because I saw it. I saw the potential in him to do what he's doing. When he finally got everyone, not just outside but inside, to get away from that 'He's just a special teams player' mentality, because for a while the people thought that's what he was. That's not who he was."
After being named the Eagles special teams' MVP in both 2005 and 2006, Mikell made the jump to starter last season. In 2007, Mikell led the Eagles' secondary with career-high 98 tackles, including a 16-tackle performance against the Chicago Bears last October.
"He had to get his confidence up to play completely wide open," Dawkins said. "The thing that I said earlier, I'm not saying I take credit for his play at all, but the thing I did say is we are mirror images of each other. There is no 'I have to do this, he can do that.' If a tight end comes to my side, I'll cover him. If he goes to Q's side, he'll cover him.
"That is a great confidence level in a defensive coordinator's mind to know that you have two capable safeties to do exactly what the defense calls for and that both make plays. Because you see he's not just making tackles, he's making plays on the ball also, stripping guys and going up for balls. He's a playmaker."
It's no coincidence that Dawkins and Mikell are mirror images of one another. While in high school and college, Mikell idolized Dawkins and their stats in their first 15 NFL starts are eerily similar.
In 1996-97, Dawkins recorded 83 tackles (59 solo) with three interceptions, two fumble recoveries, a forced fumble and a sack. Through Mikell's first 15 games as a starter, he's registered 131 tackles (84 solo) with an interception, two forced fumbles, two sacks and a fumble recovery.
That's not bad company for Mikell to keep.
"It means that we're both being very productive," Mikell said. "It's something that a lot of teams are going to have to look at. Maybe last year or a couple years ago, they would have stayed away from Dawkins but now they don't know which way to go. Hopefully, I can continue to play at his level from here on out."
Mikell credited Dawkins for being a positive role model and as someone he has looked up to in the past.
"He's helped tremendously," Mikell said. "Just things I've learned like how to play the game full speed, how to practice, how to take care of your body, how to live your life off the field, I've learned that over the years. Earlier on, I didn't know the sacrifices you need to take but after watching him a few years, I learned what you need to do to be successful."
Obviously, Mikell has been a model student, as he's notched a team-high 35 tackles (24 solo) with a sack and a forced fumble in three games so far in 2008. Not bad for a guy that didn't have a job after draft day over five years ago.
"Being undrafted and stuff, it's one of those things where it's a crapshoot on draft day," Mikell said. "I'm here now and that's what matters. It took a lot of hard work to get here, where I'm at right now and I just feel fortunate that I got an opportunity to show what I can do."
This article has been reproduced in a new format and may be missing content or contain faulty links. Please use the Contact Us link in our site footer to report an issue.