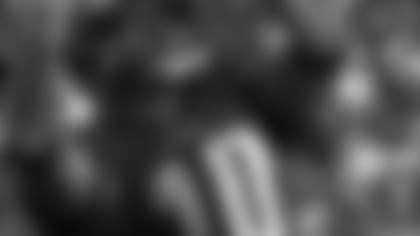 WR DeSean Jackson was an 81 overall
Every Madden player always looks forward to turning on the new season's version of the video game for the first time and scouring through the rankings of his favorite team's players. Not only can it be a source of both pride and aggravation, but it's also always sure to spark some healthy trash talk between fans of different teams. With that in mind, here's a peek at some of the Eagles rankings for the new Madden 10.
The two highest-rated Eagles, coming in at a sterling 95 overall, are Asante Samuel and newcomer Jason Peters. Brian Westbrook is one point behind them at 94 overall, good for a tie for third among all NFL rushers. Donovan McNabb is the 6th highest-rated quarterback in the league with a 90 overall. Two other Eagles cracked the 90-point plateau – Trent Cole at 91 and Shawn Andrews at 92 (although he's still listed at his old position of right guard).
There are a couple of Eagles who will certainly have a bone to pick with the Madden crew, starting with the defensive tackle tandem of Brodrick Bunkley and Mike Patterson. Bunkley is rated as an 82 with Patterson coming in at a shockingly low 74 overall. Starting linebackers Chris Gocong and Akeem Jordan can also make strong cases to be ranked higher than their paltry ratings of 70. Finally, which Eagles player holds the dubious distinction, and certain impetus for locker room ribbing, of being the lowest-rated Eagle? The honor goes to backup quarterback A.J. Feeley, who has slipped all the way down to a 51 overall – but all he has to do to quiet any teasers is bring up his engagement to female soccer star Heather Mitts.
- Posted by Bo Wulf, 8:15 a.m., July 24