Patrick Chung said at his introductory press conference back in March that he was going to do whatever the coaches asked of him. He even joked back then that he would grab water if that's what they needed.
On Thursday night in the Eagles' preseason win over the Carolina Panthers, Chung delivered. Hits, not water, that is. The 5-11, 210-pound safety was an enforcer in the box stopping whatever came his way. Chung finished with four tackles on the evening, which tied for the team lead. On the first series alone, he snuffed out a screen pass and stuffed a run at the line of scrimmage.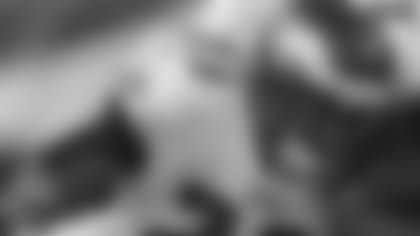 "Everybody's got to be physical. The defense has to be physical. Whatever coach needs, we're going to go out there and do what we have to do," Chung said.
Chung's presence was part of an overall improved defensive effort against Carolina. Against the Panthers starters, the Eagles allowed 162 yards of offense and only surrendered two out of seven third-down conversions. The Eagles also held the Panthers to a pair of field goals.
"A lot of the guys are new, but I feel like we're clicking. Some things are coming along day-by-day. We're getting better day-by-day, learning things, getting smarter, anticipating things and that's what's going to help our defense," Chung said.
Chung downplayed his role in the improved outing after the defense struggled in the preseason opener against the safety's former team, the New England Patriots.
"I never thought our defense was bad. We just had first-game jitters. They're out the way. We're just planning on getting better game-by-game, day-by-day and just start executing," Chung said.
As Chung adjusts to his new home in Philadelphia, he looks to seize what he once had in New England - a starting role. A second-round pick in 2009, Chung was a special teams demon as a rookie before taking over as a starter in his second season. That year, Chung had a career-high 89 tackles and three picks. Injuries have hampered Chung as he missed four games with a shoulder injury in 2012. When he returned to the lineup, Chung was demoted on the depth chart and allowed to leave in free agency this past offseason. He signed with the Eagles to reunite with Chip Kelly, who was the offensive coordinator at Oregon when Chung was a star safety.
Chung isn't going to need to fetch drinks for Kelly or the other coaches, but his presence can certainly help refresh a secondary that has struggled mightily in recent seasons.
"Our defense is going to be good, man. It's just how I feel," he said. "We're going to be good. We're going to keep working and get intense, passionate football."