Believe it or not, the beginning of the Eagles 2014 season is rapidly approaching. Players will report back to the NovaCare Complex on April 21 for the start of the offseason program. Join us as we count down the days until the Eagles are back in town ... Rising star inside linebacker Mychal Kendricks emerged as a playmaking force for the Eagles this season and recorded 96 solo tackles, second on the team. The 2012 second-round pick (46th overall) from California took another gigantic step forward in his development in 2013 and flourished in the new 3-4 scheme in defensive coordinator Bill Davis' first year with the Eagles. An explosive, versatile athlete, Kendricks excelled as a blitzer, as well as in pursuit and coverage. He said during the season that he finally felt comfortable and could just react instead of taking that split second to think first, which is typically difference between making a big play and missing out. Kendricks finished with 137 total tackles (3.0 for loss), 4.0 sacks, 6 hurries, 3 interceptions, 1 pass defended, 1 forced fumble and 4 fumble recoveries, which led the league. He is viewed as a building block and vital cog in the defense moving forward. First Player To Wear 96: LB John Sodaski (1972)
Most Recent Eagle To Wear 96: DL Bennie Logan (2013)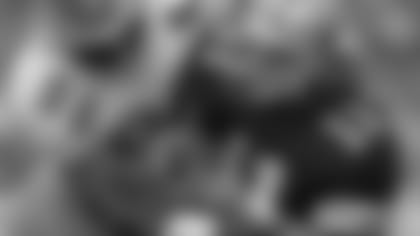 The 1986 NFL Draft was key for the Philadelphia Eagles in constructing the dominant defense that reigned from the late 80s to early 90s. In the eighth round (208th overall), the team selected linebacker Seth Joyner out of Texas-El Paso, and in the ninth round, it selected 6-foot-5, 292-pound defensive end Clyde Simmons (233rd overall) out of Western Carolina. Talk about hitting on back-to-back picks late!
Simmons became a full-time starter in his second season and immediately established himself as a premier pass rusher. He played opposite Reggie White and notched 76.0 sacks in eight seasons with the Eagles (1986-93), which ranks third in franchise history behind White and Trent Cole. Simmons starred on the famed 1991 "Gang Green" defense, was a two-time Pro Bowl and All-Pro selection (1991-92), led the NFL in sacks in 1992 (19.0) and was named to the Philadelphia Eagles' 75th Anniversary Team in 2007.