Believe it or not, the beginning of the Eagles 2014 season is rapidly approaching. Players will report back to the NovaCare Complex on April 21 for the start of the offseason program. Join us as we count down the days until the Eagles are back in town ... The numbers 9 and 2 represent the amount of touchdowns running back LeSean McCoy had rushing and receiving, respectively, in 2013. The fifth-year pro had a career season under new head coach Chip Kelly, breaking the Eagles' single-season marks for rushing yards with 1,607 and total yards from scrimmage with 2,146. At just 25 years old, McCoy is still in his prime and only 1,066 yards away from breaking Wilbert Montgomery's franchise record for career rushing yards (6,538). First Player To Wear 92: Smiley Creswell (1985)
Most Recent Eagle To Wear 92: Reggie White (1995-92)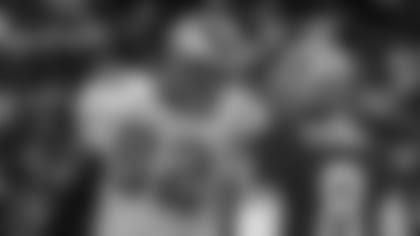 Only two players in Eagles history have worn 92 as their jersey number: Smiley Creswell and Reggie White. Creswell played just three games and recorded one sack for the Eagles in 1985, his only season in the NFL.
White, on the other hand, is regarded as perhaps the greatest defensive end in NFL history and ranks second on the all-time sack list with 198.0. He was the Eagles' first-round pick (fourth overall) in the 1984 Supplemental Draft and, after a year in the United States Football League (USFL), joined the team in 1985, when he was first assigned 91 as his jersey number because Creswell wore 92.
White, a phenomenon from his days at the University of Tennessee, dominated the NFL immediately, posting 13.0 sacks as a rookie and 124.0 in eight seasons with the Eagles, during which his lowest sack total was 11.0. In 1987, White set the Eagles' single-season sack record with 21.0. He was the premier player on a defense that was the NFL's best and most feared in the late-80s and early-90s, before leaving for Green Bay as a free agent in 1993.
White had his jersey number retired by the Eagles during the 2005 season.