Believe it or not, the beginning of the Eagles 2014 season is rapidly approaching. Players will report back to the NovaCare Complex on April 21 for the start of the offseason program. Join us as we count down the days until the Eagles are back in town ... It's not the number 91, exactly, but rather 9.1, quarterback Nick Foles' yards-per-pass-attempt for the 2013 season, which led the NFL. It was a banner year for Foles, who took over for Michael Vick when the latter suffered a hamstring injury and never looked back. He finished with a 64.0 percent completion percentage, 2,891 yards, 27 touchdowns, 2 interceptions and a 119.2 quarterback rating, which also led the league and was third-best all-time. Foles turns 25 on January 20 and is just scratching the surface of his potential. First Player To Wear 91: Tim Golden (1985)
Current Eagle To Wear 91: Fletcher Cox (2012-present)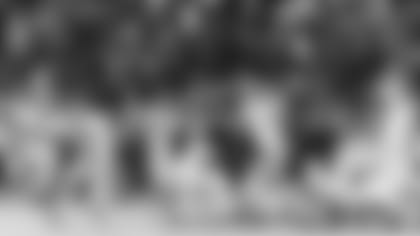 Defensive tackle Andy Harmon played seven seasons for the Eagles from 1991-97. The 6-foot-4, 272-pound defensive tackle was an unheralded sixth-round pick out of Kent State, but quickly became an important cog in the defense. Though overshadowed at the start by more recognizable players along the line, Harmon made a name for himself as a devastating interior pass rusher, notching a remarkable 38.5 sacks over four seasons from 1992-95.
Perhaps his most famous moment came during the back-to-back 4th-and-1 stops against the Dallas Cowboys late in the fourth quarter of their Week 15 game in 1995, which the Eagles won, 20-17. After the first attempt was called off because of the two-minute warning, the Cowboys lined up to go for it again at their own 29-yard line. Harmon, who was lined up at right defensive end, threw aside the offensive tackle who attempted to block him and filled the hole that Hall of Fame running back Emmitt Smith tried to run through, helping stuff the running back for no gain.