Believe it or not, the beginning of the 2014 season is rapidly approaching. Players will report back to the NovaCare Complex on April 21 for the start of the Eagles offseason program. Join us as we count down until the Eagles are back in town ... The Eagles scored 89 points in the first quarter of games this season. In his first season with the Eagles, Chip Kelly looked to get the Eagles out to quick starts. With 89 points in 17 games (including the playoffs), the Eagles averaged 5.2 points per first quarter, which was the seventh-highest average in the NFL. In 2012, the Eagles averaged just 1.9 first quarter points, which was last in the NFL. Oh, the difference a year makes.
Former Eagles running back Brian Westbrook, the most dangerous pass-catching running back that the Eagles franchise has ever seen, averaged 8.9 yards per reception during his nine-year NFL career. Listed at 5-foot-8, Westbrook had a knack for sneaking out of the backfield to make a big play in the Eagles passing attack.
Running back Chris Polk carried the ball 11 times for 98 yards this season, good for an average of 8.9 yards per carry. His season was highlighted by a 34-yard run through the snow against the Detroit Lions. First Player To Wear 89: E Henry Piro (1941)
Current Eagle Wearing 89: WR B.J. Cunningham (2013-present)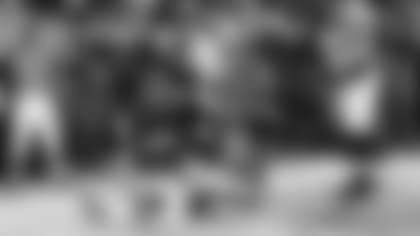 Originally an undrafted tight end out of BYU, tight end Chad Lewis signed with the Eagles before the 1997 season. He appeared in all 16 games in his rookie season, starting three of them and hauling in four touchdown passes. Injuries led to Lewis being released in 1998 after playing in just two games. He was claimed off waivers by the St. Louis Rams in 1999, but returned to the Eagles midway through the season and was on the receiving end of Donovan McNabb's first-career NFL touchdown pass.
Lewis was named to the Pro Bowl in three consecutive seasons from 2000-02, as he became a mainstay in the Eagles offense. In the 2004 NFC Championship Game against the Atlanta Falcons, Lewis caught two touchdown passes, sending the Eagles to their first Super Bowl appearance since 1980.
In all, he spent parts of nine seasons with the Eagles, catching 228 passes and finding the end zone 23 times.
Other Notable 89s: WR Calvin Williams (1990-96)