Believe it or not, the beginning of the 2014 season is rapidly approaching. Players will report back to the NovaCare Complex on April 21 for the start of the Eagles offseason program. Join us as we count down until the Eagles are back in town ... Kicker Alex Henery connected on 24 of his 27 field goal attempts during his rookie season of 2011. His field goal percentage of 88.9 is the highest single-season rate in Eagles history. It was also the highest mark ever by a rookie kicker in NFL history until Minnesota's Blair Walsh and Baltimore's Justin Tucker surpassed it in 2012.
Wide Receiver Irving Fryar had 88 receptions in 1996, the most catches by an Eagles wide receiver in a single season. Fryar played three seasons in an Eagles uniform, and in that brief time he recorded the two highest single-season reception totals by a wide receiver in Eagles history (86 catches in 1997). First Player To Wear 88: E Herschel Ramsey (1938-40, 1945)
Current Eagle To Wear 88: WR Jeff Maehl (2013-present)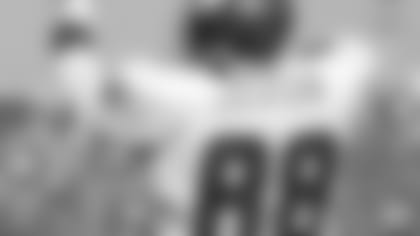 The Eagles selected tight end Keith Jackson with the 13th overall pick in the 1988 NFL Draft, and the University of Oklahoma product instantly found success in the NFL. The 6-foot-2 tight end started 15 games during his rookie season, during which he caught 81 passes for 869 yards and six touchdowns. His 81 receptions were the sixth most of any NFL receiver that season and they are tied for the fifth most ever by an Eagle in a single season and the most ever by an Eagles tight end.
Jackson spent four seasons with the Eagles and was named first-team All-Pro and a Pro Bowl selection in his first three years with the team. He would go on to play three seasons in Miami before ending his career with two seasons in Green Bay. After winning the Super Bowl with the Packers in 2006, Jackson decided to retire at the age of 31. By all accounts, Jackson went out on top, winning a Super Bowl, catching a career-high 10 touchdowns and making his sixth Pro Bowl team in his final season.
Jackson finished his Eagles career with 242 receptions for 2,756 yards and 20 touchdowns.
Other notable 88s: TE Jimmie Johnson (1995-98), TE/LS Mike Bartrum (2000-06)