Believe it or not, the beginning of the 2014 season is rapidly approaching. Players will report back to the NovaCare Complex on April 21 for the start of the Eagles offseason program. Join us as we count down until the Eagles are back in town ... On November 22, 1992, Vai Sikahema returned a punt 87 yards against the New York Giants at Giants Stadium. In one of the more memorable touchdown celebrations in Eagles history, Sikahema performed his best "Rocky" impression by boxing the goal post.
In the Week 3 meeting with the Kansas City Chiefs this past season, the Eagles gave an excellent example of why time of possession meant little to the team. Against the stingy Kansas City defense, the Eagles scored on a 22-yard touchdown pass to Jason Avant, capping off a drive that covered 87 yards in just three plays and 1:16 of the first quarter clock. First Player To Wear 87: E Jack Ferrante (1941, 1944-50)
Current Eagle To Wear 87: TE Brent Celek (2007-present)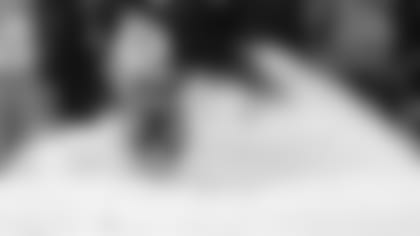 Brent Celek was selected by the Eagles in fifth round of the 2007 NFL Draft, and since that point, he has developed into one of the most reliable tight ends in the game of football. Statistically, Celek's best season with the Eagles has been 2009, when he caught 76 passes for 971 yards and eight touchdowns. One of the more athletic tight ends in the league over the past seven seasons, Celek trails only Dallas Cowboys tight end Jason Witten for the most yards after catch amongst NFL tight ends since 2009 with 1,834. The University of Cincinnati product is second in franchise history in yards (3,975), touchdowns (26) and receptions (312) by a tight end, trailing only Eagles Hall of Famer Pete Retzlaff in all three categories.
As one of the longest-tenured players on the team, Celek was a leader and a role model in the transition to new head coach Chip Kelly's program. He made his mark coming up with big catches when the situation called for it, but he was also one of the best blockers on the team, according to Kelly. Even with the addition of tight ends Zach Ertz and James Casey, Celek was a big part of the historic offensive season.
Other notable 87s: TE John Goode (father of current Eagle Najee Goode) (1985), WR Todd Pinkston (2000-05)