Believe it or not, the beginning of the 2014 season is rapidly approaching. Players will report back to the NovaCare Complex on April 21 for the start of the Eagles offseason program. Join us as we count down until the Eagles are back in town ... After winning the starting quarterback job during the preseason, Michael Vick led the Eagles offense into their regular season opener against Washington. Unfortunately for Vick, a hamstring injured cost him time and opened the door for Nick Foles to step in. While Vick was behind center in 2013, he was having one his best seasons throwing the football, statistically. The 12th-year veteran averaged a career-high 8.6 yards per pass attempt, and he also had the second-highest passer rating of his career at 86.5, second only to his 100.2 rating in 2010. First Player To Wear 86: E Hal Prescott (1947-49)
Current Eagle To Wear 86: TE Zach Ertz (2013-present)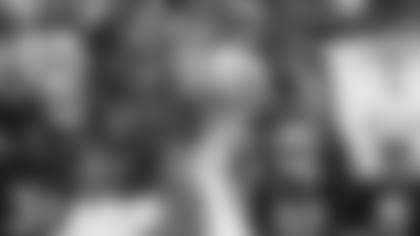 The Eagles selected Fred Barnett in the third round of the 1990 NFL Draft, and the Arkansas State product instantly brought a big-play element to the Eagles offense. In his rookie season, Barnett caught 26 passes for 721 yards, averaging an amazing 20 yards per reception. In a game against the Buffalo Bills, Barnett was on the receiving end of a 95-yard touchdown pass from Randall Cunningham.
In his six-year career with the Eagles, Barnett had two 1,000-yard seasons, including his only Pro Bowl season in 1992, during which he caught 67 passes for 1,083 yards and six touchdowns. His best season, yardage-wise, came in 1994, when he caught 78 passes for 1,127 yards and five touchdowns.
Barnett finished his Eagles career with 308 receptions, good for 10th on the team's all-time receiving list. He played parts of two more seasons with the Miami Dolphins before retiring after the 1997 season.