Believe it or not, the beginning of the 2014 season is rapidly approaching. Players will report back to the NovaCare Complex on April 21 for the start of the offseason program. Join us as we count down the days until the Eagles are back in town ... DeSean Jackson enjoyed his best season as a pro under Chip Kelly in 2013, registering 82 catches for 1,332 yards and nine touchdowns, all career highs, and getting selected to his third Pro Bowl. The 82 catches and 1,332 yards were fourth- and second-most in team history, respectively. He registered five games with over 100 yards receiving, including 193- and 195-yard efforts (the 195-yard performance against the Minnesota Vikings is second-most for a single game in his career, during which he also set a personal best with 10 catches). At 27 years of age, Jackson is still in his prime, arguably the league's fastest receiver and definitely one of its most dynamic. It's exciting to imagine what the next few seasons will be like for him in Kelly's offense. First Player To Wear 82: Robert Krieger (1941)
Current Eagle To Wear 82: Emil Igwenagu (2012-present)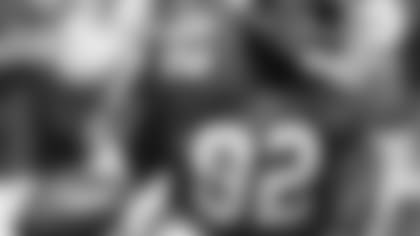 The Eagles' first-round pick (20th overall) in the 1982 NFL Draft out of North Carolina State, Mike Quick exploded onto the scene his second season. The speedy wide receiver set a single-season franchise record with 1,409 yards on just 69 receptions, which averaged out to an incredible 20.4 yards per catch. His 13 receiving touchdowns that season ranks second in franchise history.
In 1985, Quick was part of one of the most memorable plays in Eagles history, a 99-yard touchdown reception in overtime to beat the Atlanta Falcons, in which he caught a pass from quarterback Ron Jaworski in stride between the cornerback and safety 20 yards downfield and galloped the rest of the way, untouched, into the end zone. He ranks third in team history with 6,464 receiving yards and sixth in receptions with 363 (DeSean Jackson trails him by just 347 yards and six receptions). Quick was a career Eagle, playing all nine of his NFL season in Philadelphia, and remains a fixture within the organization as the analyst for the team's radio broadcast.