Believe it or not, the beginning of the 2014 season is rapidly approaching. Players will report back to the NovaCare Complex on April 21 for the start of the Eagles offseason program. Join us as we count down until the Eagles are back in town ... The greatest receiver in Eagles history found the end zone 79 times in his career. Harold Carmichael scored 79 touchdowns in his 13-year career, the most of any wide receiver in franchise history. No Eagles wide receiver has ever played in more games (180), caught more passes (589) or had more receiving yards (8,978) than Carmichael.
With 8.0 sacks in 2013, linebacker Trent Cole increased his career total to 79.0 sacks, the second most in Eagles history behind only Reggie White, who finished his Eagles tenure with 124.0 sacks.
The longest punt return in Eagles postseason history is 79 yards. On December 21, 1947, Bosh Pritchard returned a punt 79 yards for a touchdown against the Pittsburgh Steelers. First Player To Wear 79: T Vic Sears (1941-53)
Current Eagle To Wear 79: G Todd Herremans (2005-present)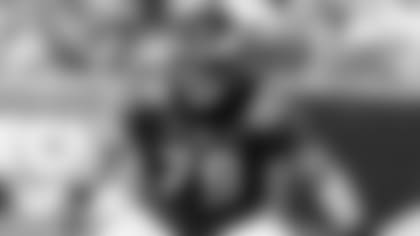 Saginaw Valley State isn't known for producing a wealth of NFL talent, but don't tell that to Herremans. A fourth-round draft pick of the Eagles in the 2005 NFL Draft, Herremans has been a versatile piece of the Eagles offensive line for the past nine seasons. After playing left tackle in 2005, Herremans has moved around quite a bit, starting at every position except for center during his time in an Eagles uniform. In 2013, he started every game at right guard, and proved to be one of the top run-blocking guards in the NFL, per Pro Football Focus.
While blocking is how he's made a name for himself in the NFL, Herremans has also displayed a terrific pair of hands. Twice in his career, Herremans has been on the receiving end of touchdown passes (2008 at Seattle, 2010 at Dallas). Herremans' career receiving numbers (two catches for three yards and two touchdowns) prove just how efficient he is as an offensive weapon.