Believe it or not, the beginning of the 2014 season is rapidly approaching. Players will report back to the NovaCare Complex on April 21 for the start of the Eagles offseason program. Join us as we count down until the Eagles are back in town ... The Eagles were the kings of the big play in 2013, leading the NFL and setting an NFL all-time record with 99 plays of 20 yards. But what was their longest play of the season? Was it a LeSean McCoy breakaway run, or maybe a deep pass to DeSean Jackson? Perhaps to the surprise of some fans, the Eagles' longest play of the season actually came from the defense.
Brandon Boykin intercepted Green Bay Packers quarterback Scott Tolzien in Week 10, jumping in front of a pass in the Eagles' end zone. Boykin nearly returned the interception coast-to coast, before running out of gas after a fantastic 76-yard run-back. First Player To Wear 76: E Lester McDonald (1940)
Current Eagle To Wear 76: G/T Allen Barbre (2013-present)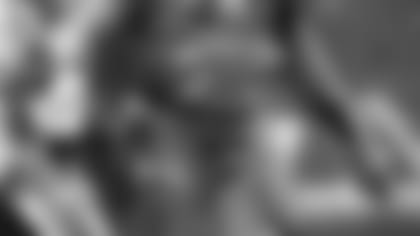 The NFL may never again see an offensive lineman as intimidating as Bob Brown. Taken by the Eagles with the second-overall draft choice in 1964, the former Nebraska Cornhusker became a starter on the Eagles offensive line right away. Brown was as physical as they come, and his no-nonsense style of play earned him three Pro Bowl and three All-Pro selections during his five seasons in Philadelphia from 1964-68.
Brown went on to play two seasons for the Los Angeles Rams and three seasons with the Oakland Raiders before retiring after the 1973 season. His combination of physicality and speed was unmatched during his playing days, and in 2004, Brown was elected into the Pro Football Hall of Fame. He made the Pro Bowl in six of his 10 seasons in the NFL, and he was named first-team All-Pro five times.
Other Notable 76s: T Frank "Bucko" Kilroy  (1943-1955), T Jerry Sisemore (1973-1984)