Believe it or not, the beginning of the 2014 season is rapidly approaching. Players will report back to the NovaCare Complex on April 21 for the start of the Eagles offseason program. Join us as we count down until the Eagles are back in town ... From a statistical standpoint, Nick Foles is coming off one of the greatest seasons for a quarterback in NFL history, let alone for a second-year player at the most difficult position in pro sports. It was truly remarkable to watch Foles' rise from losing the Training Camp battle to Michael Vick to stepping in as his replacement and leading a comeback victory over the New York Giants to having the worst game of his career and getting concussed against the Dallas Cowboys to then kicking off an historic run through the second half of the season with a seven-touchdown onslaught against the Oakland Raiders. As Foles settled into his role as starting quarterback, he deftly handled every curveball thrown his way by opposing defensive coordinators. He was calm, steady, efficient and incredibly productive, leading the league in passer rating (119.2), yards per attempt (9.1) and fewest number of interceptions (two, lowest amount ever for a qualified quarterback). Foles was very accurate with the football, too, and his 64.0 completion percentage tied for first in franchise historyfor a single season (with Donovan McNabb in 2004). That 64-percent completion percentage also ranked eighth in the NFL, as did his 27 passing touchdowns, despite registering over 200 fewer attempts than everyone ahead of him. First Eagle To Wear 64: G Robert McDonough (1946)
Current Eagle To Wear 64: T Matt Tobin (2013-present)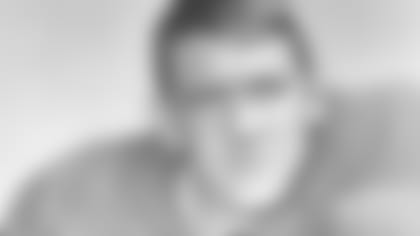 An All-Big Eight and All-America selection at guard during his senior season at the University of Missouri in 1961, Blaine was taken by the Green Bay Packers in the second round (28th overall) of the 1962 NFL Draft. He spent one season with the Packers before getting traded to the Eagles, where he played and started at guard for four years, earning All-Pro honors in 1964. Blaine, who was a pre-med major as an undergraduate, retired from football following the 1966 season, at age 26, to focus on other pursuits. He went on to receive his PhD in physiology from Missouri and entered the field of medical and pharmaceutical research, focusing on hypertension, heart failure and salt and water balance in the human body. One of his most groundbreaking studies demonstrated the action of angiotensin II on the peripheral vasculature and brain cardiovascular centers. Blaine was once the director of Dalton Cardiovascular Research Center at the University of Missouri and is now a professor in the school's Department of Medical Pharmacology and Physiology. He was recognized as a Distinguished Eagle Scout by the Boy Scouts of America in 2009 and was inducted into the Missouri Sports Hall of Fame in 2011.