Believe it or not, the beginning of the Eagles 2014 season is rapidly approaching. Players will report back to the NovaCare Complex on April 21 for the start of the Eagles offseason program. Join us as we count down until the Eagles are back in town … The Eagles scored 53 total touchdowns in 2013. Thirty-two of them came through the air, while 19 scores came on the ground. The other two touchdowns came via returns (Brandon Boykin interception return vs. Chicago and Najee Goode's fumble recovery vs. New York). The Eagles' 53 total touchdowns ranked third in the NFL, but it was the highest total in the NFC. The 19 rushing touchdowns were tied for the second-most is the NFL, and the 32 receiving touchdowns were tied for fifth in the league. First player to wear 53: B Walt Masters 1936
Current Eagle wearing 53: LB Najee Goode (2013-present)
Other notable 53s: C Ken Farragut (1951-154) LB Bill Romanowski (1994-95), Hugh Douglas (1998-2002, 2004)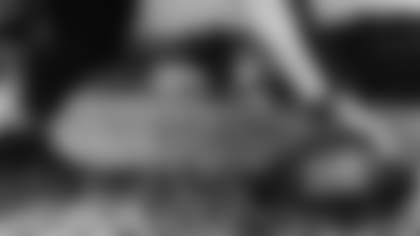 LB/C Alex Wojciechowicz 1946-50
When the Eagle acquired Wojciechowicz in 1946, he had been playing both sides of the ball for the Detroit Lions. Formerly the starting center on Fordham University's famed offensive line known as the "Seven Blocks of Granite," Wojciechowicz was known for being a hard-nosed offensive lineman and linebacker, but the Eagles wanted to play him primarily on defense.
Wojciechowicz was traded to the Eagles when he was 31 years old, as the Lions felt that he had passed his prime. That criticism, along with the fact that he never won a championship with Detroit, provided Wojciechowicz a great amount of motivation once he arrived in Philadelphia. As a starting linebacker, he was a major component of the Eagles teams that won back-to-back NFL Championships in 1948 and 1949.
Wojciechowicz played 13 seasons in the NFL, five of which came with the Eagles. He retired after the 1950 season, and in 1968, he was elected into the Pro Football Hall of Fame.