Believe it or not, the beginning of the Eagles 2014 season is rapidly approaching. Players will report back to the NovaCare Complex on April 21 for the start of the Eagles offseason program. Join us as we count down until the Eagles are back in town ... As a team, the Eagles had exactly 37 sacks in 2013. Despite a slow start after a move to outside linebacker, Trent Cole led the team with eight. New addition linebacker Connor Barwin finished with five, and defensive end Vinny Curry and linebackers DeMeco Ryans and Mychal Kendricks all tied for third with four apiece. Twelve players in all registered at least one sack. First Eagle To Wear No. 37: HB Robert Rowe (1935)
Most Recent Eagle To Wear No. 37: S Jamar Wall (2010)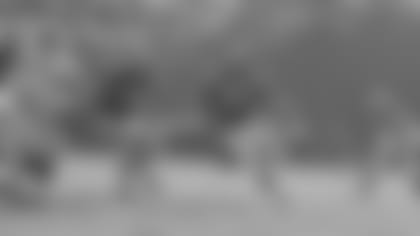 Tom Woodeshick was the 102nd overall pick in the 1963 NFL Draft out of West Virginia, and his career with the Eagles got off to a rather modest start until his breakout season in 1967, when he rushed for 670 yards. The following season of 1968 was Woodeshick's best as a pro. He finished the year with 947 rushing yards. If not for an eye injury in the Eagles' final game of the season against Detroit, Woodeshick very well may have broken the 1,000-yard plateau which was surpassed by only one running back that year. Even after a shattered facemask left a deep cut over one of his eyes, Woodeshick wanted to get back into the game, and it was that passion that endeared him to the fans of Philadelphia.
He earned Pro Bowl honors for his 1968 season, but a knee injury in 1970 would derail his career. He went on to play with the Eagles through 1971 and then finished his career with one season in St. Louis, but he was never the same runner after the knee injury. He finished his 10-year career with 3,563 rushing yards and 21 career touchdowns, all of which came in an Eagles uniform.