Matt Ryan the baseball fan is rooting for his hometown Phillies in the World Series. But come Sunday, Matt Ryan the rookie quarterback will have no such hometown loyalties.
A native of Exton, Pa., Ryan will lead the upstart Atlanta Falcons into Lincoln Financial Field against the Eagles in a key conference matchup.
"It's exciting to come home and play in front of the crowd that I kind of grew up a part of," Ryan said Wednesday during a conference call with Philadelphia reporters. "But at the same time, I've got to play a game on Sunday and that's the most important part. There will be plenty of time in the offseason to catch up with my family and friends. But this week, it's about playing the Philadelphia Eagles."
Selected third overall in April's draft, Ryan has demonstrated remarkable poise through his first six NFL games, leading the Falcons to a 4-2 record with a NFL rookie-leading 82.9 passer rating. In fact, Ryan became the first rookie quarterback in the NFL to start his first six games under center and win at least four since the NFL merger took place in 1970.
"It's tough to have expectations coming in because you're just not sure what you're getting yourself into in terms of the NFL," Ryan said. "With that said, I think that I had a lot of confidence in myself and my abilities. That was my goal, as I think everybody's goal is when they come out and compete, is to be the guy on the field and to be playing from the first snap. That was kind of my goal."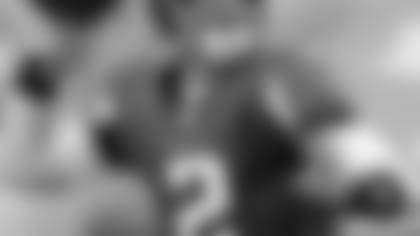 QB Matt Ryan
Ryan has shown an ability to come through in pressure situations and appears to be the rare rookie signal caller who can be successful right away.
A week after he directed a 27-24 upset win over the Packers at Lambeau Field, Ryan established himself as one who could also deliver late-game heroics.
With six seconds remaining in an Oct. 12 game against Chicago, Ryan completed a 26-yard pass to wide receiver Michael Jenkins to set up the game-winning field goal in Atlanta's 22-20 victory. It was part of Ryan's first career 300-yard passing game and at the expense of the Bears' defense, one of the league's better units.
Through six games this season, Ryan has completed 93 of 161 passes for 1,164 yards and five touchdowns, numbers that rank him among the top 10 quarterbacks in the league in most categories.
"Matt is very diligent in his preparation," said Falcons head coach Mike Smith. "He works extremely hard and I think our off coaching staff has done a wonderful job preparing him and putting together game plans where not only does he have a chance to succeed, but our entire offense has a chance to be efficient."
Ryan has had the benefit of a potent ground game paced by Michael Turner, who ranks third in the NFC with 597 rushing yards and averages 99.5 yards per game. Ryan has also developed a nice pitch-and-catch relationship with receiver Roddy White, as well as Jenkins.
But Ryan, it seems, is most effective when the ground game is on track. Turner has been limited to a mere 98 yards on 32 carries in Atlanta's two losses. Subsequently, Ryan has completed 45.9 percent of his passes for 316 yards and two interceptions in those two defeats.
On Sunday, Ryan and Co. will be tested by an Eagles defense that ranks second in the league with 21 sacks and likes disguising coverages and using multiple blitz packages. Defensive coordinator Jim Johnson is known for confusing young quarterbacks. In fact, under Johnson, the Eagles are 8-3 against rookie quarterbacks, including wins against Miami's John Beck and Buffalo's Trent Edwards last season.
"I think with Jim, it's the non-stop," said free safety Brian Dawkins. "You may get us every once in a while, but we're not going to stop, so you have to be able to maintain that same cool that you were on that one play that you got us on the other 20 blitzes that we throw at you.
"If you have a quarterback that's drafted high, they've been pretty successful against those defenses they've seen. But in the NFL, I think, the speed for one thing disguises the moving around."
That said, Dawkins says it's important not to get caught up in the 23-year-old Ryan's perceived inexperience.
"Don't worry about how old he is and how many snaps that he hasn't taken," Dawkins said. "Look at his body of work, and his body of work says that he scrambles, puts the ball on the money when he scrambles, can get away from pressure, gets rid of the ball, and doesn't make turnovers.
"That's all the signs of a pretty dog-gone good quarterback if I say so."
Eagles quarterback Donovan McNabb lauded Ryan's early success and his ability to step in and lead a team that hit the bottom last year, a season marred by Michael Vick's legal troubles.
"When you look at him, it's easy to say he's still a rookie, but you just have to watch him throughout a game and see how he has been handling everything that they've been giving him," McNabb said. "He is doing a good job."
Unlike Ryan, McNabb didn't start his first NFL game until the 10th game of his rookie season.
Smith, meanwhile, acknowledged the ups and downs that come with starting a rookie quarterback, but he's not surprised by the Ryan's progress. From the time Ryan was drafted in April, Smith said the quarterback has all the intangibles - from confidence and leadership to diligence and ability.
"When you're picking as high as the organization was picking, you want to make sure that you pick the right guy," Smith said. "To be successful in this league as a quarterback I think you have to really study the game, and that's something Matt has done since he's been here and I think it's something that he learned back at Boston College."
For his part, Ryan is taking everything in stride. Not even game a game in his hometown has been a distraction.
"My family has been really good about it and have taken care of all of the outside stuff and haven't really put it on me," Ryan said. "I haven't really had too many ticket requests. A lot of people have kind of taken it on themselves to get them, which I appreciate.
"It's exciting to come home."
Ryan's only regret is that he will not be able to stay in town to catch Game 4 of the World Series on Sunday night.
"No chance," he said. "I've got to get back and get ready for whoever we play the following week."