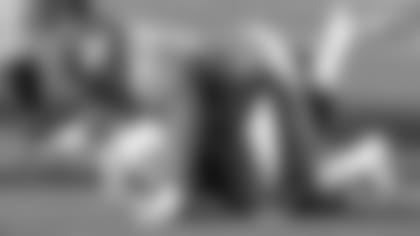 2014 Record: 4-12 (4th)
2015 Non-Division Opponents: New Orleans, Tampa Bay, Buffalo, Miami, St. Louis, at Atlanta, at Carolina, at New England, at New York Jets, at Chicago
Goodbye: Washington has only lost three free agents to other teams thus far. The most recognizable player to depart is outside linebackerBrian Orakpo, who joined the Tennessee Titans after six up-and-down, injury-plagued seasons with the team that drafted him 13th overall in 2009. After Washington used its franchise tag on Orakpo following his Pro Bowl 2013 season, the pass rusher notched just half a sack in seven games last season.
In the backfield, third-down back Roy Helu signed in Oakland after four years with Washington. Helu was an ideal complement to the pounding Alfred Morris and is one of the league's best receiving backs. He had 42 catches for 477 yards and two touchdowns for Washington in 2014, compared to just 40 carries. Finally, Leonard Hankerson and his 81 career catches left Washington for the Atlanta Falcons.
Several former Washington players remain on the open market, including recent defensive line cap casualtiesStephen Bowen and Barry Cofield. Wide receiver Santana Moss is somehow still in the league, only not with Washington anymore. Former starters Brandon Meriweather and Tyler Polumbus are both also on the open market.
Welcome: Scot McCloughan has done his best to change the ways Washington does business in free agency. Rather than the eye-popping expenditures of yore, McCloughan has made a few second-tier moves that should improve the team's talent level for more reasonable prices. Up front on defense, Washington now has two pile movers inside thanks to the signings of Stephen Paea and Terrence Knighton.
McCloughan has also started to rework what has been an anemic Washington secondary with the signings of cornerbackChris Culliver and safetyJeron Johnson. Culliver played well for San Francisco in 2014 and stayed out of trouble off the field. At 6-0, 199, he has the size and physicality that teams covet in today's NFL. Johnson, meanwhile, is a bit of an unknown after four seasons working behind the Earl Thomas-Kam Chancellor safety tandem in Seattle. McCloughan, though, has a background with Johnson from his time in Seattle.
Washington also re-signed three players. Colt McCoy will return to join Robert Griffin and Kirk Cousins at quarterback and Niles Paul, who had a breakout season at tight end, comes back to join Jordan Reed as weapons in the middle of the field. Safety Trenton Robinson is also back in burgundy.
Draft Focus: Washington owns the fifth overall pick in this year's NFL Draft and has its own pick in all seven rounds. McCloughan will have every opportunity to put his stamp on the Washington roster with that early first-rounder and the team should be able to add a difference-maker on either side of the ball. Though reports out of Washington suggest the team could be interested in Marcus Mariota, that would be a surprise, considering the depth of quarterback they have already. But no position can be ruled out. A wide receiver to pair with DeSean Jackson and Pierre Garcon would help the offense, an offensive lineman to protect the quarterback would be useful, a pass rusher to pair with Ryan Kerrigan would help an improving defense and the secondary still has several holes.