Things around the NovaCare Complex certainly had a different feel to it on Monday than it did a week ago.
Besides having fewer players around due to cuts and the rise in intensity due to game week, the leader of the Eagles defense was back on the practice field Monday preparing with the rest of the team for Sunday's season opener against the St. Louis Rams.
"Anytime you start your year off, you want to start it off with a win," Dawkins said. "You want to start it off and kind of build momentum from that first game. I think that's what we're thinking about – building momentum for the season."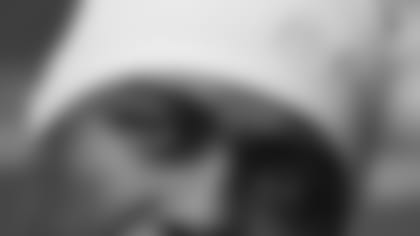 FS Brian Dawkins
While the Eagles' defense is young overall, nearly every starter has seen significant playing time at the NFL level under defensive coordinator Jim Johnson and that experience alone should mean the squad will be better than last year.
"We're definitely improved," Dawkins said. "We're healthy. Basically everybody has a year under their belts. Obviously there are some new guys in there, but they're caught up with the system. I'm excited about it."
Of the "new guys," cornerback Asante Samuel has fit in seamlessly, and MIKE linebacker Stewart Bradley seems poised for a breakout season. But that doesn't mean there is nothing more to master.
"It's a learning thing," Dawkins said. "Anytime that you get on the field in a new defense, you're trying to see what offenses throw at you and what's expected of you. To be able to be in that position, for a while, it helps you in so many different aspects.
"You're not guessing, you're not asking yourself, 'Should I have been there? Where should I go on this?' You're in position. When you're in position and you have athleticism, you're going to make plays."
Especially when a team has the type of speed the Eagles have on the defensive side of the ball.
"We have speed across the board, from the tackle all the way to the corners, and there's speed in between," Dawkins said. "That's something, as a defense, Jim (Johnson) loves to have speed back there so he can put all of his elaborate blitzes in. It's no different this year."
Dawkins said that veteran players can preach to the rookies about life in the NFL and the speed of the game all they want, but until the rookies experience it for themselves, talking will only take them so far.
"I think by now they understand the significance of what is expected of them," Dawkins said. "They kind of know their roles (and) what's going to be asked of them coming into this year. But it's a learning process at the same time.
"You can only show them so much and tell them so much in preseason. They're going to have to go through some bumps and bruises before they understand that."
For players like safety Quintin Demps and receiver DeSean Jackson, those bumps and bruises start on Sunday when everything gets taken up a notch.
"I guess there were a couple of individuals that didn't notice that because they were just so blazing fast," Dawkins said. "But for the rest of us mortals, that speed is significantly greater."
The Eagles will not release an official injury report until Wednesday, but wide receiver Hank Baskett talked on Monday about the progress of fellow receiver Reggie Brown.
"He was out there for a little bit (during Monday's 10/10/10 practice). He's looking good," said Baskett. "I believe he's going to be ready. You take time with things."
Brown suffered a hamstring injury against Carolina and had been sidelined until Monday's workout, missing the final two preseason games.
EAGLES NAME PRACTICE SQUAD
The team announced its practice squad Monday morning. Among those added were some familiar faces - linebacker Andy Studebaker, fullback Jed Collins, cornerback Kyle Arrington, defensive tackle Mike Marquardt and wide receiver Shaheer McBride spent the preseason with the Eagles and were part of the final roster cutdown Saturday.
The other three members were wide receiver Willie Reid, offensive tackle Chris Patrick and cornerback Trae Williams.
Patrick spent the 2008 preseason with San Francisco and Detroit. He originally signed with the New York Giants as a rookie free agent in 2007, but was released and claimed by New England that summer before landing on Green Bay's practice squad. A native of Ithaca, MI, he played collegiately at Nebraska.
Reid, a third-round draft pick of Pittsburgh in 2006, saw action in six games with the Steelers over the last two seasons. In 2007, he caught 4 passes for 54 yards. Reid was one of Florida State's top punt returners in school history, joining Deion Sanders (1,429) as the only other player to top the 1,000-yard plateau in punt return yardage in a career with 1,063. His average of 15.4 yards per punt return is ranked first in school history.
Williams was selected in the 5th round of the 2008 draft by Jacksonville after a stellar career at South Florida, where he finished his college career ranked second in school history with 16 interceptions, and first in return yards (219) and touchdowns (4). The Plant City, FL, native played alongside CB Mike Jenkins, a first round draft pick of Dallas in 2008, in college.