Welcome to a Victory Monday edition of the Morning Roundup, presented by Microsoft! What a game, what a win! The Eagles snapped a four-game losing streak by beating the No. 1 seed in the NFC, the New Orleans Saints, 24-21. Head Coach Doug Pederson continues to find ways to win in the month of December. Pederson is 12-6 in the critical stretch to the playoffs, good for a .667 win percentage. Here are 13 takeaways from Sunday's victory.
Microsoft Teams Top Connection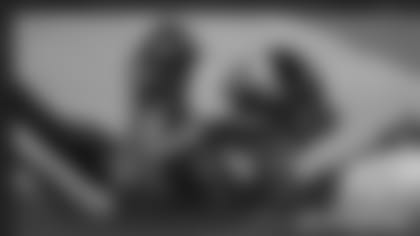 Jalen Hurts has a thing for throwing touchdowns on fourth down. His touchdown pass Sunday against the Saints was a 15-yard strike on a back-shoulder fade on fourth-and-2. Both of Hurts' touchdown passes have come on fourth down.
1. Eagles Insider Dave Spadaro: Oh, what a win! Hurts, Sanders, and gritty D lead to victory
There were no nerves, Jalen Hurts said, after a 24-21 win over the New Orleans Saints on Sunday at Lincoln Financial Field, his first NFL start. Instead, the message from his teammates, all of whom threw their full support behind him all week, was just to be him. Just be Jalen Hurts, the same quarterback who enjoyed such a prolific collegiate career at Alabama and Oklahoma and who stepped in a week earlier at Lambeau Field and had some success against the Packers.
Just go out and be Jalen Hurts. And have a lot of fun.
"I mean, it was a new experience for me, for sure. My first NFL start out there, I'm excited that I was able to do it with this group of guys, with this team," Hurts said. "We're ready to get back to work and fix the things we need to fix."
Hurts did everything the Eagles needed him to do, accounting for 106 rushing yards on 18 carries and 167 passing yards and a touchdown as he completed 17 of 30 passes with no interceptions and no quarterback sacks. The Eagles built up a 17-point halftime lead and then took back the momentum after the Saints closed the gap to three points after the third quarter, something they haven't done all season.
2. Miles Sanders races into history
Miles Sanders gave the Eagles a 14-0 lead in the second quarter on an 82-yard touchdown run, the fourth-longest gallop in franchise history. He has three runs of 70-plus yards this season. He finished with 115 yards and two touchdowns (his fourth-quarter score provided the game-winning points). The Saints had not allowed an individual to gain 100 yards on the ground since November 19, 2017. The streak is technically intact because the Saints allowed two individuals to gain 100 yards rushing – Sanders and Hurts.
3. Josh Sweat turns up the heat
Defensive end Josh Sweat notched two sacks, including the defensive play of the game on Sunday. The Saints trailed 17-14, but had the ball at the Eagles' 42-yard line. On fourth-and-2 with 9:57 remaining, Sweat came off the edge, beating tackle Terron Armstead, and swatted the ball out of quarterback Taysom Hill's hand. Defensive tackle Javon Hargrave recovered to end the threat.
"Some of the plays we noticed that he was holding the ball," Sweat said. "We figured it would be a lot of boot and stuff like that, so we would have opportunities. I'll be honest, when he did that sprint out, I was like, 'Damn, I might not make it (laughs)'. Something just made me keep running and he held on to the ball and I pretty much saw an opportunity to strip the ball out. I thought I was going to get the recovery but good thing my boy was there."
In his third season, Sweat is third on the team with six sacks. A fourth-round pick in 2018, Sweat was part of a five-man draft class that has seen contributions from every player in 2020 – tight end Dallas Goedert, cornerback Avonte Maddox, Sweat, offensive lineman Matt Pryor, and tackle Jordan Mailata.
4. Javon Hargrave rounding into form
The Eagles are starting to benefit from the investment in defensive tackle Javon Hargrave. Hargrave recovered the fumble that Sweat forced, recorded two sacks of his own, and had two tackles for loss in the win over the Saints. This is after recording a sack last week in Green Bay. Hargrave opened the year slow coming off pectoral and hamstring injuries. But now, Hargrave is becoming a force from the interior of the line.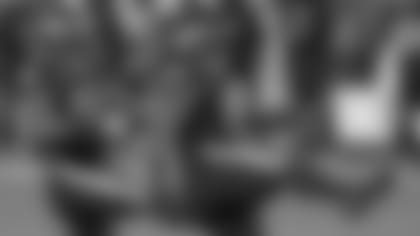 Postgame Show: A true team effort
Jalen Hurts shined in his first NFL start, but it took a lot more than the rookie quarterback to end the NFL's longest win streak. Amy Campbell, Fran Duffy, Ike Reese, and Eagles Insider Dave Spadaro recap the action on the Postgame Show presented by Ricoh.
5. Jalen Hurts gets national praise
Wrote King, "No person in the NFL had a bigger day, on offense, defense, or special teams than the 53rd pick in the draft last April. Hurts was confident, decisive, and productive in the season-saving win over New Orleans – and he won his first NFL start against the number one defense in the league."
6. The Saints were impressed with Hurts as well
Saints Head Coach Sean Payton couldn't help but offer praise for Hurts after his starting debut.
"I felt like he played well. He played exceptionally well. He hurt us. We'll take a look at the tape. Obviously, we didn't do a good enough job of slowing (his run game) down. When a team rushes for 250 yards, not a lot of good can happen. I'll say this – he was impressive just watching him. I thought he played with poise, made some throws, and was smart. He did a good job."
7. A special interception for Duke Riley
Linebacker and special teams captain Duke Riley picked off Saints quarterback Taysom Hill in the second quarter of Sunday's win. Safety Jalen Mills blitzed and hit Hill. Riley was in position and got the interception at the Saints' 39-yard line. The Eagles capitalized on the turnover and great field position with a Jake Elliott field goal to make it 10-0.
"Honestly, I give all credit to (Defensive Coordinator) Jim Schwartz on that, on my interception. He called a great call, he put me in the right position to be in that spot for the play. So as soon as I caught the ball I ran on the sideline and gave it to him. At practice he always talks about, 'Next man up, everyone has to be ready.' He puts everyone in position, he does a really good job of keeping the young guys ready. That's why some of the guys came in and made some plays so like I said, I give all the credit to Jim," Riley said.
As a Louisiana native and former third-round pick out of LSU, the interception – and the win – was extra special for Riley.
"Everyone was excited for me. Especially, I'm from New Orleans, it happened against New Orleans. And honestly, I felt it before the game. I talked about it with my family. I felt like it was going to happen. I don't know, just sometimes you feel like you are going to make a play. Well, I always feel like I'm going to make a play but sometimes luck is just on your side. But they were all excited," Riley said. "I love everybody on the team, everybody on the team loves me. That's the thing, the more energy we can create like that, the more explosive plays, the more turnovers we can get for the offense, the more for this team, it just brings everybody together. That's the main thing. It was just really good for me to do that at the right time. It was something that the team needed."
8. 'Next man up' mentality going to be necessary
The Eagles came into the game minus some key players on the defensive side of the ball and Sunday's game didn't help matters in that regard.
Defensive tackle Malik Jackson and cornerback Darius Slay each left Sunday's game with head injuries. Cornerback Avonte Maddox and safety Rodney McLeod suffered knee injuries. McLeod had not missed a snap on defense this season prior to Sunday. Head Coach Doug Pederson will meet the media to provide an update at 12:30 PM.
9. The offensive line holds up quite well
Maybe the 12th time is the charm. The Eagles rolled out their 12th offensive line combination in 13 games on Sunday against the Saints, with Nate Herbig in at right guard and Jack Driscoll at right tackle. Well, Jalen Hurts was not sacked once in his starting debut. Certainly, Hurts' mobility helped get him out of trouble, but the Saints have three players with six sacks or more, including the reigning NFC Defensive Player of the Month in Cameron Jordan.
The rushing attack totaled 246 yards on the ground against a unit that entered Sunday's game ranked second in the league in stopping the run.
10. Up next, the Arizona Cardinals
The offensive line will need to be sharp because next Sunday in Arizona, the unit will face a Cardinals defense featuring Temple product Haason Reddick, who had FIVE sacks on Sunday in a 26-7 win over the New York Giants.
The Cardinals are in the playoff hunt with a 7-6 record and currently hold the No. 7 seed in the NFC.
One of the big stories this week will be how do the Eagles stop quarterback Kyler Murray, an exciting, dual-threat who was the No. 1 overall pick of the 2019 NFL Draft out of Oklahoma. Of course, Jalen Hurts succeeded Murray in Norman.
Murray has accounted for nearly 4,000 yards of offense and 33 total touchdowns this season between his arm and his legs. Murray isn't the only rushing threat as Kenyan Drake has gained 848 yards on the ground and scored nine touchdowns. And there are plenty of passing targets for Murray with DeAndre Hopkins, Larry Fitzgerald, and Christian Kirk.
11. Doug Pederson's day-after thoughts on Jalen Hurts' first start
"There were some really, really good plays. He managed the team. He did everything that we asked him to do," Pederson said. "He played smart. He played physical with the run. Some of it was designed. Some of it was just being him and what he can do. It's going to be really good film for him to learn from and get better, but I thought he did a really nice job."
Pederson did not commit to Hurts starting Sunday against Arizona.
12. Pederson backs Jake Elliott
Jake Elliott missed a 22-yard field goal attempt at the end of the first half that would have given the Eagles a 20-0 lead. It's his third straight game with a missed kick, but Pederson has faith in Elliott.
"You got to make those kicks. He understands that. One of the things is I don't get too nervous with Jake. He's going to fix it. He's going to get better. He's going to learn from it," Pederson said on the SportsRadio 94WIP Morning Show. "We're going to have one of these kicks one week that's gonna come down to a game-winner and I'm going to have the utmost faith and trust in him that he's going to get it done."
13. Teammates praise Jalen Hurts as a 'natural leader'
The FOX broadcast dug up a ridiculous stat at the end of Sunday's win. Jalen Hurts was the first quarterback to win his first start against a team on a winning streak of at least nine games since 1975. That quarterback was Eagles legend Ron Jaworski in 1975 with the Los Angeles Rams.
Hurts' teammates were impressed with the poise that he showed going against the Saints and their No. 1 defense.
"He played awesome today. The tape shows for itself. He's so confident and he's a natural leader," running back Miles Sanders said. "We just needed that and he gave us that spark to start from last week. But ya'll seen it all. I think we played a whole total of four quarters today. I think we looked like a complete team, minus the penalties, we have to clean that up, but overall though, I think this whole team did a hell of a job."