The Eagles rallied from a 17-point third-quarter deficit with a chance to take the lead late in the fourth quarter, but came up just short in a 38-29 loss to the undefeated Pittsburgh Steelers. In today's Morning Roundup presented by Microsoft, read the nine storylines ranging from Travis Fulgham's breakout game to the State of the NFC East following Dak Prescott's injury to the end of an incredible streak for tight end Zach Ertz.
Microsoft Teams Top Connection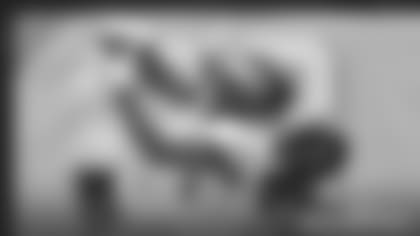 Well, it wasn't just one connection. It was a repeated connection over and over and over again. Wide receiver Travis Fulgham hauls in one of his 10 receptions for 152 yards and a touchdown in the defeat. Read more about his outstanding performance below.
1. Spadaro: Eagles show heart, but loss to Steelers still stings
Despite everything that happened – the defense struggling to get off the field, the offense turning the football over at a critical time that led to seven Pittsburgh points, the 10-minute period of time late in the second quarter and early in the third quarter when Pittsburgh scored 17 straight points – the Eagles were right there with the game on the line. But a fourth-quarter drive stalled, and then Jake Elliott's 57-yard field goal went wide right and the Steelers scored a touchdown on the ensuing possession to wrap up a 38-29 win over Philadelphia on Sunday at Heinz Field.
So close, and yet so many questions about the Eagles after a fight on Sunday. There are no moral victories in this game and we'll look at the reasons the Eagles came up short in this one, but the team showed a tremendous amount of heart fighting back from 17 points down. The offense had its best game of the season and the Carson Wentz-Travis Fulgham connection is very, very real.
In the end, though, the late second quarter and early third quarter Steelers blitz, along with an inability to win the fourth quarter, made all the difference in the game.
2. Welcome aboard the Travis Fulgham bandwagon
Before you order a custom jersey at the Eagles Pro Shop, you should know that it's F-u-l-g-h-a-m. Not Fulham.
Fulgham was a bright spot in the Eagles' 38-29 loss to the Pittsburgh Steelers on Sunday. The second-year receiver hauled in 10 catches for 152 yards and a touchdown. Since the Eagles signed him to the active roster ahead of the 49ers game last week, Fulgham has 12 receptions for 209 yards and two touchdowns.
"He's a beast," quarterback Carson Wentz said. "I mean he showed up today and showed really last week that the two big plays he had, they weren't a fluke. Kid's a baller. He made a lot of big plays. I was really proud of him and pumped for him."
• Fulgham's 209 receiving yards lead the Eagles in 2020. He's the first Eagle to record 10 receptions in a game since tight end Zach Ertz last November against the Seahawks.
• He's the first Eagle with 150 receiving yards since DeSean Jackson in the 2019 season opener against Washington.
• And he's the first Eagles wide receiver with 100 receiving yards in a game since Alshon Jeffery last December in Miami.
"I'm just trying to do what I can. If Carson throws me the ball, just come down with it and make the play," Fulgham said. "Unfortunately, it wasn't enough to get the win, but we'll keep building on it."
3. Ben Roethlisberger calls audible on Chase Claypool's fourth touchdown
The Steelers sealed the win on Sunday when quarterback Ben Roethlisberger threw a 35-yard catch-and-run touchdown pass to rookie wide receiver Chase Claypool with 2:59 remaining to make it 38-29. It was Claypool's fourth touchdown of the game (three receiving, one rushing).
On the play, it was a third-and-8. The Eagles called quarters coverage and linebacker Nathan Gerry was matchup on Claypool in the slot.
"We expected them on that particular play to kind of go with an all-out blitz, so we had a play called to get the ball out quick and hopefully try and beat the blitz," Roethlisberger said. "They sat back in a Cover 2 zone, and it just wasn't what we expected. I saw that, and I changed the play."
"It was just a great route, double move with a receiver obviously on a linebacker," Head Coach Doug Pederson said. "They caught us I think in a two-deep look at that point, and just a double move on Nate. It was tough call there. Well executed by them for the score."
"Ben obviously checked to it. Once he saw in that particular coverage, quarters, he made a good throw, good catch," safety Rodney McLeod said. "It was the right play versus that coverage. It was a great call versus the coverage that we had. Ideally, would we like Nate to be on a receiver? No. We would prefer a defensive back but that was the call that was made defensively and they checked to a good play."
Roethlisberger was 27-of-34 on the day for 239 yards with three touchdowns for a 125.4 passer rating. He was elusive in the pocket as he was only sacked once.
The Steelers were 11-of-15 on third down. Roethlisberger did not have a single incomplete pass on third down.
"We've got to get off the field. Third down hurt us bad today, especially with the penalties. I didn't realize that we had eight (on defense)," defensive end Brandon Graham said. "That's just unacceptable. It starts in practice. We know that some of the stuff that showed up in practice showed up out there in the game with the offsides and the little things that we can correct. That's what hurt us in the end."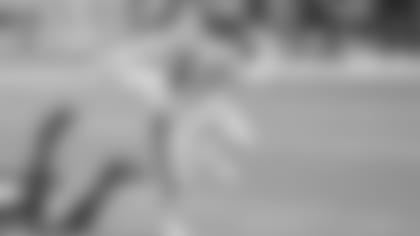 Postgame Show: Eagles' comeback falls just short
Amy Campbell, Fran Duffy, Ike Reese, and Eagles Insider Dave Spadaro recap the Eagles-Steelers game on The Postgame Show presented by Ricoh.
4. Carson Wentz aggressive in defeat
According to NFL's Next Gen Stats, quarterback Carson Wentz attempted 37.1 percent of this throws into tight windows on Sunday against the Steelers. It was the highest percentage of any quarterback so far in Week 5 and the third-highest single-game percentage in the 2020 season only behind Miami's Ryan Fitzpatrick in Week 1 and New England's Brian Hoyer in Week 4.
Wentz turned in what was arguably his best performance of the season against one of the league's stingiest defenses. He completed 20 of 35 pass attempts for 258 yards with two touchdowns and two interceptions for a 75.7 passer rating. Unlike recent weeks, he only gained 11 yards on the ground and his streak of three straight games with a rushing touchdown came to an end.
"I think there are some things to be encouraged about from today. We're so close. We're so close," Wentz said. "Finishing some drives offensively, taking care the football. Defense is so close. Last week they had some big turnovers and things. It's right there. We're right there.
"Playing against some good football teams and we can get this thing turned around and I'm confident that we will."
Wentz and the Eagles converted 71 percent of their third-down situations (10-of-14) and were a perfect 3-for-3 in the red zone. In the second quarter, Wentz showcased his ability to uncanny ability to keep plays alive as he ducked a sack attempt by linebacker Bud Dupree, delivered the throw over the middle to wide receiver Travis Fulgham to convert the third-and-3. He was also drilled upon throwing the ball by linebacker Vince Williams, which drew a roughing the passer flag adding 15 yards. That drive resulted in a Miles Sanders 1-yard touchdown run to tie the game at 14-14.
The third quarter has been a challenge for Wentz and the offense this season. Wentz entered the game with a 38.5 passer rating in that 15-minute period. Down 24-14, Wentz threw his first interception of the game when tight end Zach Ertz was unable to fight through traffic and cornerback Steven Nelson picked it off. After padding their lead with a touchdown to make it 31-14, Wentz took an 8-yard sack on the first play of the Eagles' next drive.
The Eagles rallied late and had the ball with a chance to take the lead, but after Wentz's throw to Fulgham was broken up on third down, Jake Elliott missed a 57-yard attempt. Wentz's second interception came on a fourth-and-20 desperation heave down nine. Still, Wentz has nine interceptions this season, more than he threw in all of 2019.
"I mean, we're frustrated. Don't get me wrong. This is not where we wanted to be, expected to be," Wentz said. "We have high expectation for ourselves around here. But guys are going to be critical of themselves and take accountability to where they can really improve and help this team get better. I have all the confidence in the world in the coaching staff and the players to fix the little things and we'll get this thing going."
5. Bittersweet homecoming for Miles Sanders
Pumped to play in his hometown of Pittsburgh for the first time in his NFL career, running back Miles Sanders wowed the 4,708 fans in attendance with a 74-yard touchdown run in the first quarter.
Head Coach Doug Pederson caught the Steelers by surprise when he called a shotgun draw on a third-and-9. Sanders made slot cornerback Mike Hilton look silly at the line of scrimmage and then he was off. Outstanding downfield blocks by J.J. Arcega-Whiteside and Greg Ward helped open up room for Sanders to take the ball the distance. It was the longest run of Sanders' career. It was the longest run by an Eagles player since Brian Mitchell's 85-yard touchdown against the Falcons on October 1, 2000.
"Miles Sanders just did a great job. I said at the beginning of the week that he was an exciting running back and he showed it there today," Steelers linebacker Vince Williams said. "If you make blitzes like that on third down people are going to come up with ways to get away from you. Got to give kudos to the Eagles. They figured out our play."
Sanders' mother, Marlene, was among those in the crowd cheering for him on Sunday. He added a second touchdown on a 1-yard run in the second quarter.
However, it was tough sledding after that. Sanders finished with 80 rushing yards, 19 receiving yards, and the two touchdowns. But on nine runs outside of the two scoring plays, Sanders only gained 5 yards. And there were times Wentz missed Sanders in the passing game that could have led to bigger gains.
"It's a great reflection on how good the Pittsburgh defense is against the run," Pederson said.
6. Amazing streak ends for Zach Ertz
Since a seven-catch, 70-yard performance in Week 3 against the Bengals, Pro Bowl tight end Zach Ertz has been limited to just five catches for 15 yards in the past two games. He had one reception for 6 yards on Sunday against the Steelers on six targets.
Winning is the only thing that matters in the end, but it's unusual to see one of the most consistent playmakers in the entire league be so quiet for two weeks in a row.
The last time Ertz had fewer than two catches in a game? October 23, 2016 against the Minnesota Vikings. Including playoffs, Ertz had at least two receptions in 61 consecutive games that he played in.
"As far as the targets and everything with him, it's one of those things I'm not worried about just because as far as chemistry goes, I feel great with Ertz," quarterback Carson Wentz said. "I think we've showed that over the years. It was just that was the type of day was it today and really last week, but I still feel confident that he's going to get open, get his going forward, and we can be better there."
Wentz's first interception was on a target to Ertz in the third quarter. It was a timing route that was disrupted by contact from linebacker Vince Williams. Cornerback Steven Nelson made the interception.
7. Doug Pederson explains decision to try field goal attempt
The Eagles rallied from a 17-point deficit to make it 31-29 in the fourth quarter. Following an Eric Ebron fumble that was forced by linebacker Duke Riley and recovered by cornerback Cre'Von LeBlanc, the Eagles had the ball at their own 45-yard line with 6:19 remaining in the game.
The Eagles got one first down across midfield on a QB sneak by Carson Wentz. After a sack and an 8-yard catch by running back Miles Sanders, Wentz's third-down attempt to wide receiver Travis Fulgham was broken up by cornerback Joe Haden.
Facing fourth-and-4 from the Steelers' 39-yard line, Head Coach Doug Pederson elected to go for the field goal. Jake Elliott's attempt had the distance, but sailed wide right.
The Steelers capitalized on the field position with a 35-yard touchdown by wide receiver Chase Claypool, his fourth of the game, to seal the win.
"Felt comfortable where we were on the field obviously," Pederson said of the decision to kick the field goal instead of possibly go for it on fourth down. "It was a tough situation to be in that fourth-and-long situation there, and well within Jake's range to kick the field goal. Yeah, that was it."
8. Dak Prescott suffers compound fracture; Andy Dalton takes over in Cowboys win
The topsy-turvy NFC East took another spin late on Sunday afternoon when Cowboys quarterback Dak Prescott suffered a compound right ankle fracture and dislocation in the third quarter of Dallas' win over the New York Giants.
Giants cornerback Logan Ryan tackled Prescott on a 9-yard run and it was immediately evident that Prescott was seriously hurt.
Andy Dalton, the longtime veteran quarterback who led the Cincinnati Bengals to five consecutive playoff appearances, is now the quarterback. Dalton was 9-of-11 for 111 yards as the Cowboys rallied from a 17-3 first-half deficit to take first place in the NFC East with a 2-3 record.
Dallas isn't the only NFC East team with a quarterback situation. After benching Dwayne Haskins, Kyle Allen suffered an arm injury in the Football Team's loss to the Rams. Alex Smith returned to the field for the first time since suffering a gruesome leg in 2018.
9. Up next: Ravens roll to 27-3 victory over the Bengals
The Baltimore Ravens come to Lincoln Financial Field next Sunday after dispatching the Cincinnati Bengals 27-3 on Sunday to improve to 4-1.
The defending AFC North Champions scored the first 27 points of the contest. Wide receiver Marquise Brown hauled in six receptions for 77 yards and a touchdown, while tight end Mark Andrews added six receptions for 56 yards and a score.
The offense didn't have to do much as No. 1 overall pick Joe Burrow was 19-of-30 for 183 yards and an interception. The Bengals were just 3-of-16 on third down and gained just 205 yards of offense. Rookie first-round pick linebacker Patrick Queen capped off the stellar performance with a 53-yard fumble return for a touchdown in the fourth quarter.
The Eagles will need to carry over their strong offensive output against the Steelers next Sunday to knock off the Ravens.