Good morning, Eagles fans! We have to wait just one day longer for the season opener. The Eagles are conducting a walk-through Wednesday morning and then the on-field prep is in the books. Make sure to come here at 2 p.m. later today for the annual season kickoff video. You won't want to miss it! Our live coverage on Thursday begins at 7:50 p.m. with the Kickoff Show presented by Axalta. Until then, here's what you need to know in our Morning Roundup presented by Microsoft.
1. Alshon Jeffery's Amazing Message To The Team
He won't be playing Thursday night, but according to NBC Sports Philadelphia's Derrick Gunn he told the team something special on Tuesday.
2. Nick Foles Looks To Get Into A Zone
It was not lost on me while watching quarterback Nick Foles' press conference on Tuesday that he was wearing a hat with a four-leaf clover on it. However, Foles' success in the postseason wasn't luck.
The coaches did a great job of crafting a game plan for him and he got into a zone - Foles compared it to playing basketball - and executed.
That wasn't the case in the preseason. Foles struggled, but he said it was good to deal the emotions of throwing an interception and getting sacked before the games count in the standings.
Foles was happy with the week of practice the team put together, saying the "attention to detail was great and that's all that matters."
He also disputed the notion that he's a high-variance quarterback where either you have Hall of Fame-worthy performances or ones that result in burning of the game tape. In fact, the win over the Falcons in the Divisional Round is a great example as he went 23-of-30 for 246 yards for a 100.1 passer rating in the win. Solid, but unspectacular.
The Super Bowl MVP won't get caught up in the emotion of the banner being raised before the game. His focus is on Thursday night and leading the Eagles to a win to start the 2018 season.
3. Eagles Name 2018 Captains
Five Eagles will wear the symbolic C on the front of their jerseys this season as defensive end Fletcher Cox, linebacker Kamu Grugier-Hill, safety Malcolm Jenkins, center Jason Kelce, and quarterback Carson Wentz were named team captains. The players voted during a team meeting on Saturday. Head coach Doug Pederson will select a sixth captain for each game.
"It means a lot to be voted captain. It shows that I have a lot of respect from my teammates. They believe in me and know that I am one of the leaders on this team. It's another chance to go out and lead this team," Cox said. "I've been here for seven years now and everyone knows I'm not a big rah-rah guy. I speak up when I have to. If I see something wrong I go up to a player and talk to him about it in a respectful way. If I do speak to someone, they know it means something. But we don't have much of that in this locker room. The guys take care of business and they know how to conduct themselves and be professionals."
4. Eagle Eye: A Scouting Report Of The Falcons' Defense
Fran Duffy offered an analysis of Atlanta from the defensive side of the ball heading into Thursday night's showdown:
This is a fast, aggressive defensive front. Defensive ends Brooks Reed and Derrick Shelby are the starters on the edge, with 3-technique defensive tackle Grady Jarrett and nose tackle Terrell McClain holding things down on the interior. Former first-round pass rushers Takkarist McKinley and Vic Beasley rotate in often, providing that front four with a shot in the arm on passing downs. The important thing to note is that this isn't a heavy-volume blitz operation. They'll mix in pressures every once in a while (typically with nickel blitzes off the edge), but they rely on stunts and twists with the front four to get home.
The scouting report for the offense will be posted later today.
5. 'We're Best Friends Forever'
Graham Foley wrote a fantastic story about how Jason Kelce is "living his best life." Those are Lane Johnson's words, for the record.
Foley did a feature this morning on the bond Kelce shares with Ben Hartranft, a 20-year-old die-hard Eagles fan. The two met at the Super Bowl Ring Ceremony and later spent a day at Dorney Park in Allentown, Pennsylvania together:
They rode just about every attraction: Talon: The Grip of Fear, Dominator, Steel Force, Possessed, and Hydra. On Hydra, the two reenacted the Philly Special as Ben pretended to toss a football to Kelce as the ride took a photo of the two.
"It was amazing, he wasn't afraid of any of them," Ben's mother Sandy says of Kelce. "There wasn't one he said no to."
"He was like, 'Oh yeah! Oh yeah! Here we go! Woo!'" Ben says.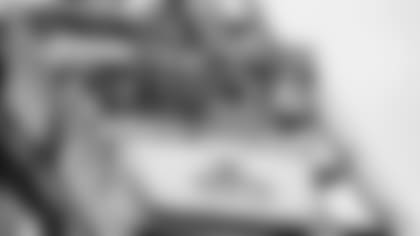 The debut of Alex Smith's column, Off the Beat, features the inside story of Jordan Mailata. No, not how the Australian rugby player made the Eagles' roster despite never having played a down of football prior to this preseason. Instead ...
But to me, the real story revolves around one phrase, brought to light by the 6-8 Aussie: Ooga booga booga.
After the preseason opener against Pittsburgh, Mailata shared how the Eagles' offensive linemen were taught to react to a defender who is offsides. It's a tactic dubbed Ooga booga booga inside the offensive line room.
"Coach Stout said that if someone jumps offsides, you've got to jump too," Mailata said. "He goes bug-eyed and he goes, 'When he jumps offsides, you've gotta jump too and you gotta scare him! Ooga booga booga!' but apparently I said it wrong. It's not 'ooga booga booga.'
There's a whole lot more to this story that you need to read here.
7. Doug Pederson Praises Carson Wentz's Work Ethic
Even though Carson Wentz won't be playing on Thursday night, head coach Doug Pederson took a moment during his press conference Tuesday to reflect on how hard the franchise quarterback has worked to put himself in position to be close to ready for the regular season.
"I think just the drive and the desire to potentially be ready for this opening day and be the one on the field," Pederson said. "I think that's the driving factor, the motivating factor, and seeing him push through the rehab all spring and summer and giving up his summer to stay here and rehab and throw and do all of the things that you ask guys to do but they don't really want to do."
Pederson also credited Wentz and Foles for fostering such a supportive relationship that set the tone for the entire team.
"These guys are so positive and so energetic, they really do feed and support each other. If this were reversed, it would be no different," Pederson said. "Nick would be very supportive of Carson. That's just the room that we have and the dynamic we have. It's a credit to both those guys in situations like this. It just draws them closer together. It draws the team closer together to be able to work through some of this, a little bit of this adversity and how we come out the back side makes us stronger down the road."