If the Eagles want to make this Sunday's matchup with the Giants a statement, it had better be imperative.
It can't be about what the Eagles can do, but what they have to do. Beating the defending Super Bowl champs at Giants Stadium would be an endorsement of their abilities, but more a dissertation on exactly how far they still need to go. So, really, there isn't a "statement game" left on this schedule.
It's a statement season that's now on the line. It just starts with this game.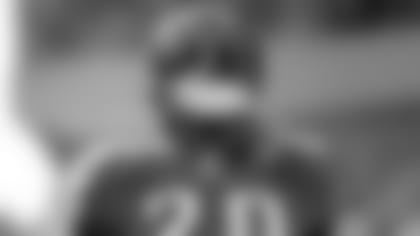 FS Brian Dawkins
"We think about winning the football game. Our main focus is going in and winning," running back Brian Westbrook said. "We can't undo anything that happened in the past. All we can do at this point is live with it and try to correct it on the field this week."
A good place to start would be with last Thursday's game against the Cardinals, where the Eagles' offense confirmed that it still had more than flashes of its old dominance. Donovan McNabb threw for four touchdowns, and Westbrook scored four of his own (two on McNabb passes).
Westbrook needs to be more involved than he was in the first game with the Giants, Nov. 9 at Lincoln Financial Field. He ran for just 26 yards and caught three passes for 33 yards, with no scores. Despite this, the Eagles managed to score often in a 36-31 loss, but the offense would have been far more efficient with a productive Westbrook.
But the statement the team has to make isn't that it can just beat the defending champs, but that it has the momentum – and the talent – to go on an extended run.
That needs to come not just from Westbrook and the offense, but from a run defense that surrendered 219 yards on Nov. 9, allowing the Giants to grind out the game down the stretch and dominate the time of possession battle.
"Obviously, you are going to take it personally. We did after that game," free safety Brian Dawkins said. "We know it's going to be tough (to stop the run), we know it's going to be physical, which we expect, which I enjoy. But, we definitely feel like we're going to be up for the challenge."
For the Eagles to get to the playoffs, they have to act like they're in them already, head coach Andy Reid said.
In battling 9-3 Carolina and Tampa Bay and 8-4 teams in Dallas and Atlanta, among others, for the NFC's final playoff spots, it's rather likely the Eagles are competing short-handed at this point – a single-elimination team in a multiple-elimination tournament.
Get out of this, and it would certainly be a statement.
"I know I've repeated this, but I look at every game during the season as a playoff game. I think they're all important," Reid said. "We need to concentrate on playing good football, not everything else. Concentrate on what we can control, and that's being the best football team we can be on Sunday."