In the rotunda outside of the NovaCare Complex auditorium, there are four sets of action photos that are blown up and mounted on the wall. The pictures feature key players and pivotal moments from big games. Looking at certain photos, you instantly think of where you were or what you felt when a certain play happened. The pictures were recently updated and it's nearly impossible to miss a particular photo.
Centered in front of three other photos is a vertical shot of strong safety Quintin Mikell. It's not from an important moment in Eagles history. In fact, the photo was from a preseason game last season. The picture of Mikell screaming, however, conveys quite a message. And not all of the meanings can be deciphered from just looking at the photo.
You have to understand Mikell's story. He was a rookie free agent in 2003. A nobody. A camp body. No hype. No fanfare.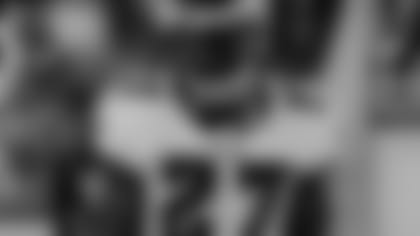 Quintin Mikell's photo announces his arrival as one of the leaders on this team
He made the team and scraped by as a good special teams player. Within a few years, he persevered and became a great special teams player. In 2005 and 2006, he was the best on the Eagles earning the team's special teams MVP honors by a vote of his teammates. In fact, Mikell was emerging as one of the best in the league. Sports Illustrated tabbed Mikell as an All-Pro special teams player.
But more was in store for Mikell.
After years of toiling on special teams, Mikell broke through on defense and started 11 games in 2007. Head coach Andy Reid remarked at the end of that year that as great a special teams player Mikell was, he "became an even better safety."
In 2008, his first full year as a starter, Mikell had a career-high and team-leading 169 tackles. Mikell's four forced fumbles and three interceptions were also career-highs. In the postseason, Mikell had a team-high 14 tackles and an interception in the Divisional Round win over the Giants. His play earned second-team All-Pro honors from The Associated Press.
With Brian Dawkins, the man who mentored him throughout his career, leaving via free agency in the off-season, the meaning behind the picture begins to take hold. Mikell's scream is the sound of his arrival to the big-time. Years of hard work paid off. Mikell's story is the exception rather than the rule. Players are expected to come out of college and become stars overnight. Not seven years later.
The picture is symbolic for another reason. It is centered and placed ahead of three other photos. Mikell is now expected to lead. Not just anyone gets a spot on this wall. A somebody. A Pro Bowl-caliber player. One who deserves the hype and the fanfare. Yes, it's time to heed Mikell's call and fall in line. He is a leader on this football team.
"There's a lot of expectations that come with that feeling, knowing that Dawk isn't there," Mikell said. "I'm not going to shy away from it. I'm excited. I learned a lot from him and just from being around this team and being around this area I know what to expect. I know how to step up. I'm ready for that. We have a lot of good guys here who want to win. We don't have different attitudes or selfish attitudes. It makes it easier to lead. I don't think that's going to be a problem at all.
"I feel like I'm ready. It's like being an intern for six or seven years or if you're a doctor you do your residency, so you get little pieces and little bits here and there so all of a sudden it's not such a big step. I feel like if I were put in this situation two years in, then it would have been a big step for me. I think right now I'm ready. Obviously, it's easier to say it, to talk it. It's one thing to walk it."
Mikell believes that he's "a part of the foundation now." He added it's something that he's craved for a while. But Mikell is more than the foundation. He's part of the brick and the mortar, the heart and soul of the home. He's not the most talented or amazing physical specimen, but he's a role model on how to work hard and thrive in this league where every year someone is drafted or signed to take your spot. Well, Mikell's spot is now on the wall. It's very difficult to miss, just like he will be on game days in 2009.