The Eagles announced Thursday evening that they have restructured the final two years of quarterback Donovan McNabb's contract. His current contract is set to expire after the 2010 season.
McNabb and head coach Andy Reid will be available to the media on Friday at 10 am in the NovaCare Complex auditorium.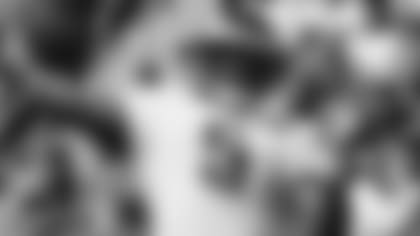 "Donovan has played a large part of this team's success over the last 10 years," said Eagles chairman Jeffrey Lurie. "He has been a professional in every sense of the word."
"We are thrilled that this all worked out," said Eagles president Joe Banner. "He is a great football player, a great person, and someone who gives back to the community. We are lucky to have him in Philadelphia."
"The Philadelphia Eagles organization and the entire city of Philadelphia are fortunate to have a quarterback the caliber of Donovan McNabb," said Reid. "He has proven himself to be a talented player on the field, a caring member of the Philadelphia community, and a winner."
Entering his 11th season as an Eagle, McNabb is the franchise's all-time leader in passing yards (29,320), touchdown passes (194), attempts (4,303), and completions (2,534). He has led the Eagles to more regular season victories (82), and playoff appearances (7) than any other quarterback in team history.
The team's first round draft choice in 1999 (2nd overall), McNabb has compiled the lowest interception percentage in NFL history (2.09%, 90 interceptions in 4,303 attempts) and the 3rd best touchdown-to-interception ratio (2.16) in league history behind Tom Brady (2.29) and Steve Young (2.17).
McNabb, a five-time Pro Bowl selection, also holds the NFL record with 24 consecutive completions and is one of six players in league history with at least 25,000 passing yards and 3,000 rushing yards. The others are: Randall Cunningham, Steve Young, Fran Tarkenton, Steve McNair and John Elway.
In 2008, McNabb led the Eagles to their highest scoring output in franchise history (416 points), while setting club records in yards (3,916), completions (345), and attempts (571). Along the way, he led the Eagles to their fifth appearance in the NFC Championship game since becoming a full-starter in 2000.
Off the field, The Donovan McNabb Foundation was established in 2000 in honor of McNabb's close family members who have been diagnosed with diabetes. The foundation raises awareness of diabetes through Donovan's position as a national spokesman for the American Diabetes Association. McNabb started his foundation so that he could help provide awareness and improve the lives of those who suffer from diabetes, as well as the families of those who have diabetes. Photo Gallery : Donovan McNabb