Quarterback Matt Barkley waited nearly nine months to finally get back on the field and play in a competitive football game again.
"It was exciting. It felt comfortable, it felt normal, it just felt like the thing to be doing on a Friday night," Barkley said. "The stadium was great, I thought it was a great environment."
Even before Friday night's preseason opener began, head coach Chip Kelly let everyone know that Barkley would play the most of all the quarterbacks. The Eagles' fourth-round pick in April's draft experienced his first NFL action with 5:45 left in the second quarter. Though it ended in a three-and-out, Barkley's third-down pass to tight end Zach Ertz was notable for its touch. While the defender was able to rip the ball away, Barkley smartly put the ball high and in a spot where his fellow rookie had a chance to make the catch.
The offense got rolling a bit on Barkley's second drive. Barkley started off with a nice scramble, in which he showed some surprising burst to get upfield for an 8-yard gain. He completed a few more short passes before the drive stalled on the edge of Patriots territory and resulted in a punt. As Barkley admitted post-game, he "started a little slow," but he refused to let those initial struggles linger.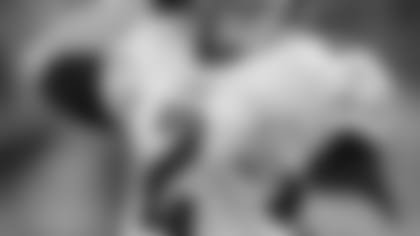 After a three-and-out to start the second half, Barkley settled into the game, gained momentum with each pass and got into a rhythm. On the ensuing drive, he began by hitting tight end James Casey with a 7-yard pass. After a holding penalty and two plays that gained no yards, the Eagles faced a third-and-20 from their own 23-yard line. Barkley stood strong in the pocket, went through his progressions and fired a bullet down the seam to tight end Clay Harbor for 22 yards. The ball had zip and was perfectly placed, just beyond the outstretched fingertips of the diving linebacker, and Harbor was able to catch the pass in stride and pick up extra yards for a first down. It was one of those "wow" throws.
Barkley really got into a groove and methodically moved the offense down the field when Kelly started calling for the no huddle. He went 5-for-5 for 52 yards, including another tremendous seam throw to Harbor and a rollout strike to wide receiver Nick Miller, capping the drive with a wide receiver screen to Greg Salas, who made a few defenders miss before scampering into the end zone for a touchdown. A successful two-point conversion on a swing pass to running back Matthew Tucker followed. After the game, Barkley reflected on how things started to click once the no-huddle offense was enacted.
"I think it was great to get in that rhythm of no huddle," Barkley said. "That's how we've been practicing every day, so that's the rhythm I've gotten into and am used to playing in. So when Chip (Kelly) got in that tempo package, I feel like I did feel much more in sync with what was going on. My feet felt right, my arm felt right, it's kind of what we picked up."
When asked if his comfort with and affinity for the no huddle and that up-tempo pace means he is becoming a "Chip Kelly quarterback," Barkley replied that he's become a product of the coaching.
"It just says that I've learned to play the way that he's been coaching us and the way that we've been practicing has worked," Barkley said. "It kind of threw me off a little bit when we were huddling, but that's no excuse for some of the throws I made. But I did feel much more in rhythm when we got going."
The pace at which the Eagles will play has been a hot topic ever since Chip Kelly was named head coach, and against the Patriots the offense alternated, depending on the drive, between huddling up and running an up-tempo, no-huddle style. Tackle Lane Johnson mentioned how some fatigue factors in, but that players look across the line and see the defense getting really winded. Barkley echoed that assertion.
"Yeah, some of the players on offense may feel a little fatigued, but you know that the defense feels even more fatigued because they're not used to that," he said. "I think it just puts the defense on its heels and makes the defenses much simpler to where you can attack in different spaces.
Chip Kelly commended Barkley for his overall play.
"I think Matt has a great grasp of what we're doing," Kelly said. "Sometimes it's tough, there might be a protection breakdown or the receiver isn't exactly where he's supposed to be. I think he was high on a couple throws early, but I thought once he settled down he was pretty decisive. He had the long third down on third-and-long that he ripped in there to Clay Harbor, that's kind of what I've seen for a long time when I was on the opposite sideline. Some of those guys, especially the rookies, it was their first time ever playing in an NFL game, so for some of them I think you kind of catch yourself looking around a little bit. I think once Matt got settled I was impressed with how he played."
After starting the game 4-for-12 for just 22 yards, Barkley rallied to finish the night 11-for-22 for 103 yards and a touchdown. He bounced back masterfully after a rough start, looking comfortable, confident and in control as he led the offense down the field. Those are attributes he showed throughout his college career at USC, and it appears he has brought them with him to the NFL.