Brian Dawkins doesn't think the Eagles needed a kick in the pants to get their season in gear.
But if it took an unmitigated disaster in Baltimore to jump start the Eagles on a possible playoff run, then Dawkins is glad something good came out of it.
"I think that was a, I won't say a blessing in disguise because you never want something like that," Dawkins said. "But I think that if there was anything else that needed to happen, and that happened, I guess that catapulted us to the feeling that we have right now."
Last week before the Giants game, head coach Andy Reid told the media that he liked the way the team had prepared for the defending Super Bowl champions. Dawkins echoed that sentiment when he said he liked the vibe coming out of the locker room.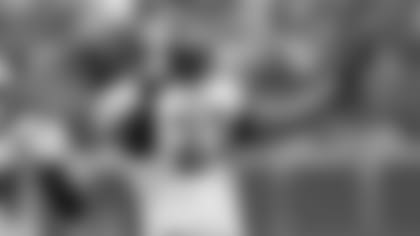 FS Brian Dawkins
The Eagles certainly translated that onto the field last Sunday.
"Like I told you guys, what I meant, when I said it, it wasn't just a statement to be making a statement and trying to get things to feel positive," Dawkins said. "I really like what I'm feeling in our locker room right now. The confidence guys are playing with, the attention to detail in practice and when we touch the field, I think you are seeing the results, these last couple of weeks, of what I feel."
Linebacker Chris Gocong, like many of his teammates, had confidence the Eagles could hang with a team as tough as New York.
"Going into the game, we knew we matched up talent for talent," Gocong said. "We're just as good as them. I don't think we were in the best game the last time we played them. I think (it) was just a good overall game for us."
Tight end L.J. Smith, who arguably had his best game of the season last week, noticed that the team has had a chip on its shoulder ever since the terrible loss to the Ravens.
"I just think we didn't have that hunger maybe," Smith said. "Ready to play the game? Yes. But just having that little extra edge to want to go out there and put our foot on the necks of the opponents. We have to have that to finish out the season. I don't think we had that sometimes."
Quarterback Donovan McNabb said it's a cliché but the team is concentrating on one game at a time - and next up is the Cleveland Browns.
"Our main focus is just our next opponent and doing things right in the game," McNabb said. "If we continue to do what we've been doing offensively and defensively and special teams, hopefully good things will happen. At this particular point, it's just a one game at a time approach. People say that so much, but in our situation, it's what we have to do."
At this point in the season, there are no moral victories and the Eagles still have a long road to haul to make the postseason.
"We were able to secure the win by establishing the run and controlling the time of possession," McNabb said. "When you are able to control the time of possession and be able to come out with points, that puts you in better position to win the game. No turnovers and being able to pick up positive yards. Hopefully we can look at this film, correct the mistakes, come back next week on Monday night and play well against Cleveland."
They'll do so with a boatload of new-found confidence.