With 11:12 left in the third quarter of Sunday's NFC Divisional Playoff, Kevin Curtis probably should have had a touchdown.
Curtis, split out wide to quarterback Donovan McNabb's left on a first-and-10 from the Eagles' 36-yard line, ran the perfect route to split New York's zone coverage. McNabb threw the perfect ball to hit a wide-open Curtis.
And Curtis dropped it. Hit him dead in the facemask, then dead in the hands. At that point, the Eagles could have been dead in the water. They trailed 11-10 after a heartbreaking turnover to start the second half set up a Giants field goal and completely drained Philadelphia's momentum, which could have reloaded after a big play.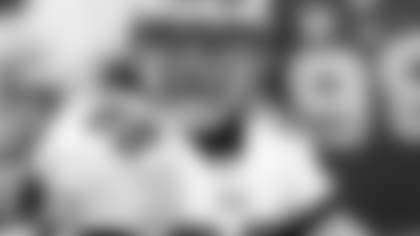 WR Kevin Curtis bounced back and now will play in his first NFC title game
But Curtis blew it. And he knew it. "Took my eyes off the ball," he said.
That's why, later, he stepped up.
"I definitely was hoping for more opportunities after the drop," Curtis said. "You hate to let your teammates down like that."
But, hey, "keep firing" has been the mantra of McNabb and head coach Andy Reid in times of toil and prosperity this season. And Curtis buys into it – it's what has got the Eagles this far, after all.
After that bumble, Curtis lit up – four catches for 40 yards, three imperative first downs and one giant monkey off of his back. His performance for the last 25 minutes of Sunday's clash was pivotal in denying the Giants a repeat championship and putting the Eagles two wins from claiming the title for their own.
"We've got a big one this weekend (against Arizona), and that's all we're looking at right now," Curtis said. "It's that time of year where it's in grasp and you can't say enough. I'm just glad to be in this thing."
It's funny how quickly perceptions change in a close game, and Curtis rode the roller coaster on Sunday. Though a crazy interception denied the Eagles – winning 10-8 at halftime – a chance to go up by two scores on their first drive of the second half, Curtis himself helped keep New York out of the end zone.
As Giants defensive tackle Fred Robbins came down with a tipped McNabb pass at the line of scrimmage near midfield, he seemed destined for the end zone – until Curtis tripped him up from behind. The Eagle defense, as it did four other times Sunday, didn't break and forced a field goal attempt.
Then came the drop. But like the defense, Curtis fought.
Later in the same drive, McNabb found Curtis on a crossing route for 15 yards, which took the Eagles into Giants territory. David Akers capped the drive with a field goal, and the Eagles would never relinquish the 13-11 lead.
But Curtis' most impressive catch came on the Eagles' next series, when McNabb bulleted a ball to a tightly-covered Curtis on a third-and-5 from the Eagles' 41. Somehow, the ball stuck to Curtis' hands. It was the biggest play on a drive that was capped off with the Eagles' final touchdown, the final etch into New York's epitaph.
"It wasn't an easy catch, but you've got to realize, too, where Donovan put that ball – it was perfect," Curtis said.
Like his team, Curtis battled back from despair. Now, he's two wins from glory.
"After the drop," Curtis said, "I wasn't going to drop another one."