When the Eagles selected Earl Wolff in the fifth round of the 2013 NFL Draft, it was a Master Sergeant who placed the call from the NovaCare Complex to Radio City Music Hall to relay the name to put on the draft card. The Eagles welcomed Master Sergeant Shawn Jones from the Air Force to get a behind-the-scenes look at the Eagles' draft operations and ultimately call in the draft pick.
It's fitting that Wolff was the player who was selected with that pick because the most important person in his life is also a Master Sergeant.
Wolff's mother, Sharon Davis, is a Master Sergeant in the Army National Guard. A native of North Philadelphia and a graduate of Girls High School, Davis has served our country for 29 years. On this Mother's Day, Wolff is honoring his mother by showcasing the discipline and work ethic she instilled in Wolff and his two siblings, an older sister and a younger brother, as the rookie camp concludes at the NovaCare Complex.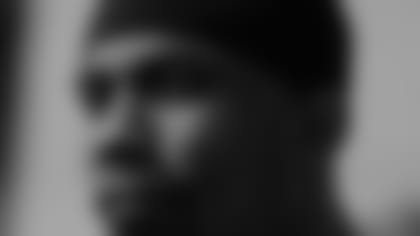 "She's been the backbone of my life," Wolff said. "Basically, I am where I am now because of her, and it's just a blessing to still have her around. I've never been in any trouble off the field, never had any academic violations or anything like that. I graduated in three-and-a-half years, so I can honestly say she raised me well."
Wolff put the pen to the paper of his first NFL contract on Thursday and said that he got his mother "something real special" even though he won't get to see his family until next weekend. After he was drafted by the Eagles, Wolff said that it felt like he was "coming back home" as his grandmother, uncles and cousins still live in Philadelphia. At his draft party in North Carolina, Wolff said that some of his family members were wearing Eagles gear and erupted in celebration when the 215 area code showed up on his phone.
While it may be tough for Wolff to be away from his mother on this special day, he has her name tattooed on his chest so she's always close to his heart, nothing will compare to the year she was deployed to Kuwait as part of her military obligation. Davis missed Wolff's graduation from North Carolina State in December 2011, but returned in time to see him honored for his final home game. The two communicated every day while Davis was overseas. She even sent a care package at one point with a teddy bear and a video message before the Wolfpack's debut this past season against The Citadel.
Davis is three years from retirement and Wolff wants to ensure that his mother will never work another day in her life after her military career.
"I want to help her out. She's worked so hard her own life," Wolff said. "Hopefully, I'm still here and if I am I want her to be here with me."
Davis takes care of the front lines, but Wolff has been the leader on the backside as he finished as the Wolfpack's all-time leader in games played and starts. He had 361 tackles, six interceptions, two sacks, eight forced fumbles and 14 pass breakups. He earned first-team All-ACC honors during his college career. A native of Raeford, N.C., Wolff only appeared on the Wolfpack's radar after he attended a camp his junior year. He was offered a scholarship on the spot and accepted.
Wolff is already familiar with the city and gleaned insight into the organization through his former position coach. Mike Reed, who is now Clemson's defensive backs coach, was an assistant coach for the Eagles under Andy Reid and Jim Johnson from 2002-06. Reed loved that Wolff, who was called the heart of the defense at N.C. State, plays the game the way it is meant to be played - hard, physical and fast. Wolff was a running back in high school, which Reed said makes Wolff "more hungry for the ball when it is in the air."
Considered an athletic and versatile safety, Wolff said that he played closer to the line in his senior year to help an inexperienced linebacker corps. Naturally, Wolff was a fan of Brian Dawkins with his ties to Philadelphia. Reed showed Wolff plenty of Dawkins' film having coached him during his time with the Eagles. It is unfair to think that a safety who is just completing his rookie camp can ever compare to one of the franchise's all-time great players, but Wolff said that he does emulate one aspect of Dawkins' game.
"I see that he played with a lot of passion," Wolff said. "I try to have fun on the field. I love the game."
On this Mother's Day, Earl Wolff will honor his mother, who like all mothers sacrificed so much to raise her children, the only way he knows how – by trying to outwork the competition on the field.