DeMeco Ryans is coming off of what many people consider to be his best game as a Philadelphia Eagle. The inside linebacker led the team in tackles with eight (six solo), and recorded both a sack and an interception in the 17-3 loss to Dallas. Speaking about his performance on Wednesday, Ryans said the there was only one stat category that he looks at after a game.
"It was a good game, but not good enough to get the 'W'," Ryans said at his weekly press conference. "That's what I play for – to win the game. It doesn't matter about personal accomplishments. What matters at the end of the day is if we can win the game."
Despite the loss, the Eagles defense had one of its best overall games of the season, limiting the Cowboys to 17 points, roughly 13 points below the Cowboys' season average. The  Eagles defense has strung together three strong performances in a row, holding opponents to an average of 19.3 points per contest, which, according to Ryans, is a testament to the unit's hard work.
"We're just confident that our guys are getting better," said the eighth-year pro. "That's the good thing about that game, that overall as a defense we got better. It was our goal to get better that week and it's the same thing this week. Let's see if we can build off of that again this week, and that will be our goal moving forward, to see how much better we can get as a defense.
"We didn't play well starting off and we didn't get the job done, as we should have. I don't know if guys weren't comfortable with what they were doing because it was new to us, but we just settled in, and guys consistently focused on the little things to try to get better and didn't try to do too much or try to do someone else's job, we just did the little things and we're seeing it week by week get better."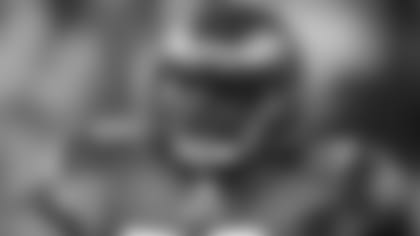 "I get that question a lot about leadership, but it's not that I just took it upon myself," Ryans explained. "We had a lot of people coming in, and I was trying to learn the defense myself, first and foremost, and get it down. As we grew together, of course if the young guys come to me and have any questions, we talk about things all the time, and it's not just me, per se. It's other guys. It's Connor Barwin, it's Nate (Allen), Kurt (Coleman), and Cary (Williams). It's all of those guys in it collectively. It's not just one guy."
Barwin has spent four of his five seasons as a pro with Ryans as a teammate, dating back to the pair's time in Houston. Though Ryans isn't willing to pat himself on the back for his leadership skills, Barwin has no problem doing so.
"You guys all know that he's a leader of men," Barwin told reporters. "He's the leader of our defense, a leader on this team and a leader of this organization. The guy just carries himself at such a professional level that everybody looks up to him all the time."
In 2009, Barwin's rookie season, Ryans recorded 123 tackles en route to his second Pro-Bowl selection. According to Barwin, Ryans has looked every bit as good this season as he did that year.  
"(The player that he was) my first two years of playing with him in Houston is the same player that he is now," said Barwin. "His last year in Houston he had that Achilles injury, and then he had a bad elbow, and now that he's healthy, he's back to the same DeMeco that I saw from when I first got to Houston."
For his part, Ryans intends to let his play do the talking.
"I'm feeling good," Ryans responded when asked to rate his play. "That's up to other people's opinions if I'm in that (top) category or not. I'm feeling great and I'm playing solid."