The wait for the home opener is coming to an end as the Philadelphia Eagles return to Lincoln Financial Field this Sunday to face an AFC West foe, the San Diego Chargers. Before they hit the field though, the players are taking over the City of Philadelphia.
Each day this week, larger-than-life Eagles player cutouts are popping up all over Center City and surrounding suburbs to fire up fans for the return of football to Philadelphia. Linebacker Mychal Kendricks, who led the team in tackles against Washington in Week 1, was the first player cutout to get spotted in the city, located in the heart of Philadelphia at JFK Plaza with the LOVE statue.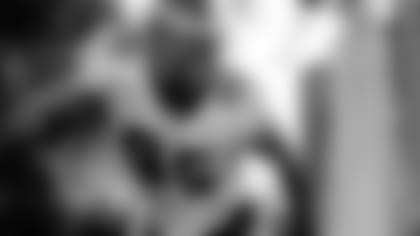 "I feel honored that they chose me," Kendricks said. "That's telling me that they're looking at me to be something, and I have to do just that. It's just more initiative to do my job."
Fellow linebacker DeMeco Ryans is also receiving the larger-than-life treatment. While the linebacker is accustomed to intimidating visiting opponents at Lincoln Financial Field, Ryans will take a turn at welcoming visitors to the City of Brotherly Love as his cutout is posted up in the Visitor's Center at Independence Hall.
"That's big time," Ryans said. "For me to be the first thing tourists see when they visit our city, it's an honor to be in that position."
Sophomore defensive end Fletcher Cox, whose cutout will party at this week's Bud Friday fan rally at Chickie's & Pete's in Drexel Hill, was excited to hear about his photo statue and cited his desire to return to Lincoln Financial Field.
"It's been a long time since we've played in front of our fans," Cox said. "It's great to be back."
Other player cutouts include wide receiver DeSean Jackson at the lobby of the Constitution Center, quarterback Michael Vick outside the Eagles Pro Shop in Cherry Hill and running back LeSean McCoy headquartered in St. David's Park in Wayne. Eagles fans can win autographed merchandise from players by sending their pictures with the player cutouts to the @Eagles Twitter account using the team's #FlyEaglesFly hashtag.
Sensing the heightened anticipation in Philadelphia as they prepare for Sunday's matchup, players see the cutouts as a way to fuel that excitement. That in turn is getting them ready and riled up for the home opener.
"We're ready to get in front of our fans," Ryans said. "We have the best fans in the league and we can't wait to play in front of them."