It may be hard to believe now but it wasn't that long ago when the 317-pound Lane Johnson showed up to Kilgore College in East Texas more than a decade ago as a skinny, lanky quarterback looking for an opportunity to showcase his athletic ability.
Johnson boasted a bevy of high school credentials, including all-district and all-state honorable mention accolades, but playing in the tiny town of Groveton, Texas caused him to be overlooked. He received only one scholarship offer. That offer came from Kilgore College.
Johnson took advantage of his lone opportunity by making the unusual transition from quarterback to tight end, then from tight end to tackle, and then to a first-round draft pick and perennial Pro Bowl selection.
However, none of it would have happened if it wasn't for the opportunity Lane was granted in the form of a scholarship offer from Kilgore College. And he has gone out of his way to repay the school in the form of a $500,000 donation in 2019 that was used to build an athletic facility aptly named the Lane Johnson Performance Center, which officially opened Thursday.
For Johnson, it is more than just having his name on the side of a building. It's his way of providing future Kilgore College athletes with the tools to get the most out of their opportunity – whether it is their lone one like Lane, or like many other junior college athletes, their last.
"It means a whole lot to the people around that can really utilize it," Johnson said.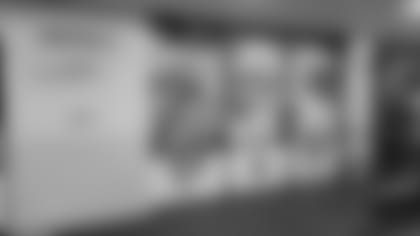 Johnson felt right back at home at Kilgore College this past week, as it was an environment that fosters hard work and dedication, a pair of traits he showed during his time at the school.
"You get here, man, there's a lot of hungry people," he said. "It's survival of the fittest, people working their tails off."
"Words cannot express the gratitude that the Kilgore College Athletic Department and the student-athletes have," said Jimmy Rieves, the school's athletic director.
"A sports and conditioning complex is vital to the success of student-athletes," he added. "I've been involved at Kilgore College for 25 years and this is something that we badly needed."
It's something that a lot of junior colleges like Kilgore badly need, but unfortunately do not possess the resources to build. Despite the lack of funding and facilities, junior colleges routinely produce scholarship athletes to major programs who eventually become productive pros, including linebacker LaVonte David and defensive lineman Jason Pierre-Paul, who were coincidently playing against Johnson in his first game at Kilgore College.
Although the Netflix series "Last Chance U" has shined a light on junior college programs in recent years, Rieves hopes Johnson's generosity can inspire other junior college products to do the same.
"(Junior college) takes young men and women that have been overlooked, maybe a little or undersized or lacking in something whether it's academics or athletics, and they grow," Rieves said. "A lot of young men and women fall through the cracks because they don't get that opportunity. Junior college is that opportunity to grow in whatever area that you need to grow in. I think it's very important."
Johnson grew quite a bit during his time at Kilgore College – literally and figuratively – and it helped him become one of the best in the NFL at his position. With the Lane Johnson Performance Center, there could be more future pros to come out of the tiny school in East Texas.
"(Lane's) dedication to be the best he can be sets a great example for the student-athletes that come from behind him at Kilgore College to show that you may be from small towns, Class A schools, but if you have the desire and the ability and the work ethic, you could achieve anything in life."