Lane Johnson's career in Philadelphia has officially begun and it started on the right side.
Johnson, the Eagles' first-round pick at No. 4 overall in last month's NFL Draft, told reporters Friday that he spent the majority of his time at right tackle during his first day of practice as an Eagle.
The 6-foot-6, 303-pound former quarterback played right tackle almost exclusively as a junior at Oklahoma before sliding to the left side during his senior season. Because he's relatively new to the position, Johnson said that his main priority early on will be to work on his technique under offensive line coach Jeff Stoutland.
"I just think you have to be more, I guess, refined," Johnson said. "You're going against the best of the best now. You're not going against any scrubs anymore so you have to be kind of perfect with what you're doing otherwise you're going to get beat."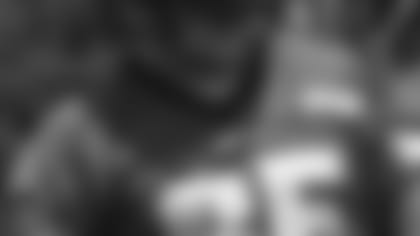 Though Johnson knew to expect an up-tempo practice under head coach Chip Kelly, he was still taken aback at the speed of the day's activities on the field.
"It was kind of faster than I thought it would be. I thought it would be kind of laid back with some tempo in there, but it was pretty much high-tempo the whole time," said Johnson. "You'll kind of see what kind of shape you're in. It was pretty fast-paced today and I think that caught a lot of people off guard."
But for a guy said he didn't want to "get ahead of myself" when asked whether he expects to start as a rookie, Johnson is already looking forward to Monday, when the rookies will practice alongside the veterans.
"Minicamp's minicamp," he said. "A bunch of people are here for tryouts, but I'm ready for Monday and just get these next two days over with and then get to meet some of the veterans, talk to them and learn as much as I can. So that's what I'm looking forward to."
One of the veterans Johnson is anxious to meet is his potential bookend tackle, All-Pro Jason Peters.
"He's one of the best in the league," said Johnson, "so coming in as a young guy you want to learn as much as you can and kind of get under his wing and let him lead you."