Much of the focus on the upcoming NFL Draft for the Eagles circles, rightly so, around the fourth overall selection. If the Eagles hold on to that fourth pick, it will be their first top-five selection since 1999 and their first top-10 pick since 2000. But the advantages of having a high pick extend beyond round one, especially in a draft considered as deep as this year's. In the second round, the Eagles hold the 35th overall selection, relatively fertile spot that has produced the likes of Andy Dalton, James Laurinaitis, Brandon Flowers and Charles Tillman over recent years.
So what could be in store at the top of the second round for the Eagles come day two of the Draft? ESPN's Mel Kiper Jr. believes the offensive line could be a focus for the Eagles. And though some have projected the Eagles to have interest in former Oregon linebacker Dion Jordan at No. 4 overall, Kiper thinks a different former Duck could intrigue Chip Kelly.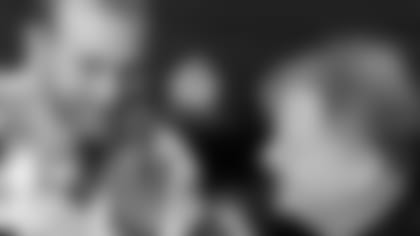 "I think you look at the offensive line, particularly right tackle," Kiper said on a conference call Wednesday. "If it's Menelik Watson from Florida State or Kyle Long from Oregon. Kyle Long can play right tackle, he can play left tackle, he can play guard and he played for Chip Kelly at Oregon. So I think Kyle Long, if he's still there, would be a viable option for the Philadelphia Eagles. Coaches like familiarity, familiar players, obviously Kyle Long's got a ton of versatility. He's got the bloodlines, his father Howie and his brother Chris, so he would have to be in discussion along with Manelik Wetson from Florida State."
Long, 6-6, 313, only played one season for Kelly at Oregon after beginning his career as a baseball player at Florida State. Amazingly, Long and Watson were teammates on the offensive line at Saddleback Junior College only a year ago before Long went to Oregon and Watson moved on to Tallahassee. At 6-5, 310, Watson too is relatively inexperienced as a football player though he certainly has the raw tools to project as a starting tackle at the next level.
Another option for the Eagles in the second round, if he lasts that long, is a player who knows Watson well - former Florida State quarterback E.J. Manuel. Manuel has been a popular link to the Eagles throughout the draft process because of his athletic prowess. Kiper believes Manuel is likely to be selected in the general area of the Eagles' second-round pick.
"I love the kid. Great character, just tremendously likeable, comes into a room and you have to root for this kid," Kiper said of Manuel. "The likeability, the 'It' factor is there with him, from that standpoint. Big at 6-5, 237. Fast, he can run the read option and run it pretty effectively. Tough to bring down when he does run the football. He can pick up some yards with his legs and beat you with his legs and pick up first downs to keep drives alive. I just saw a kid who didn't stay through progressions to the third and fourth options. He would go one, two and underneath. So he didn't have to read the whole field, about half the field, that's a concern. At times, he made some inaccurate throws, some questionable decisions. That's a concern. I didn't see him really take his game to an elite level despite having an elite physical and athletic skill. But on the numbers alone, he's first-round. I thought he tested like a first-rounder and his performance was more of a second- or third-rounder. You do the math on that, you're probably thinking late one to early two."
As for the aforementioned fourth overall pick, Kiper believes the Eagles will have options if they want to move down a few selections.
"It depends on how the first couple of picks go, but again, you're representing those left tackles, which is a hot spot," Kiper said. "You could be looking at a Dee Milliner at that particular point if he's still available ... in terms of trading down, you're going to get offers because it's not costly to get up there. This is a case where there are going to be some hot players and the hot players are those left tackles. Everybody seems to want to go up and get those guys. After (Luke) Joeckel goes, if he goes one, then it's going to make Eric Fisher and Lane Johnson two possibilities for teams that are going to look to move up. So it depends how it flows through, but I think they will get offers. I think Dion Jordan, Geno Smith will also be in the mix."
Kiper also does not believe the Eagles will look to add a defensive lineman like Star Lotulelei or Sharrif Floyd with the fourth overall pick because of the relative positional importance of the similarly ranked prospects.
"I would not look at a 3-4 defensive end," Kiper said. "You think about Tyson Jackson in Kansas City. To me, you can find those types of players down the road. I would prioritize a pass rusher, a cornerback like Milliner. In this pass-happy league that we're looking at now in the NFL, I would go that route over a 3-4 defensive end."