Head coach Chip Kelly will tell you that the differences in running a program in the NFL and running one in college are a bit overstated. Yes, there are minor adjustments to be made, like the absence of recruiting, but in the end, Kelly says, football is football. Still, since arriving in Philadelphia after his six years in Oregon, Kelly has found the difference in coaching college students to coaching professionals to be a refreshing one.
"I think the guys here are more serious about it," Kelly told reporters during a roundtable discussion last month. "It's awesome. This is their chosen profession and all they want to do is be successful. They're a lot more mature. They're a lot more focused on what they have to do when they come to work every day. That part has been fantastic. These guys, it's at times refreshing. There's a thirst and a want. There are 10 guys out there right now, we're in our offseason, and I just passed (Jason) Kelce and Riley Cooper and all those guys. That part's been really refreshing."
Along those lines, Kelly said that the veterans on the Eagles have set an example for the younger players on the roster that has helped the regime change work so seamlessly.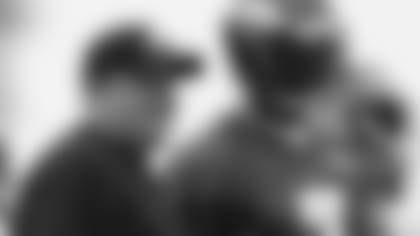 "The thing about it is that our older guys have really set the tone," said Kelly. "If you watch how Kelce and (Brent) Celek and DeMeco Ryans have approached things then you can't help but say that they've done such a great job of showing the young guys how to be professional, and that's what has made the transition, for me, really easy. That core group of older guys, Trent (Cole) is like that, Trent is always working hard. There's not a lot of older guys on this team, but the older guys who are on this team- Michael (Vick)-  those guys work."
Here's what else Kelly said about working with a new set of players …
On surprises he's faced since coming to the NFL: "There are a lot of things that you didn't know, and it wasn't that I didn't expect them or did expect them, it's just that you're going to take them as they come, but there's nothing that surprises me. "
On adjustments that he's had to make: "Just how the day works and kind of what your schedule is like, not having gone through it. You get somewhat of an idea about it. The one thing that has been great is that the players here are just fantastic, and I didn't know what that reception would be like, but they've been awesome."
On the commitment he's seen from the players: "Any time I went to visit somewhere else (in the NFL), I was only there for a day. You don't see what they're like on a daily basis. But the one thing that's been really refreshing coming here is how serious these guys are about it."
On whether or not he has a different level of patience with pro players: "No, because we always approach it that (same) way. We never showed up on Saturdays in Oregon and said 'this one's a layup'. We respect our opponents and prepare like everybody can beat you. The day you think you've got it made is the day that you're probably going to get upset. That's the one thing that I was really proud of with our team at Oregon, that when we were supposed to win, we won. That's what's really funny about this game. You always pick up the paper, especially in college football on a Saturday and go 'Who beat who? How did that happen?' And I think that's probably because they overlooked that opponent and they didn't give them enough respect, and were looking past them to the next game. That's why I always looked at it when we were in college that we didn't have rivalry games, we have 12 rivalry games, because if we play 12 games, then we better treat each opponent like it's our rivalry game. I think that method worked for us in terms of never letting our guard down. We'll take the same approach here. But do we expect to go 46-7 or whatever it is? No.
On whether or not older players are resisting the different routine: "No, I would say that it's the exact opposite. I think that our older players have been the best, to be honest with you. And it makes sense from the standpoint of 'how many years do they have left?', and they want every advantage that they possibly can to keep them (here)- when you're 21-22 years old, you kind of think you're invincible, so you don't totally have to buy into everything, and you don't have to sleep as much and you don't have to go to bed like someone else goes to bed, but when you start to get up to 28, 30, 31, 32, you better look at every advantage that you can get from that standpoint, and I think that's what these guys have. The older guys have been fantastic, and it was interesting because I think that they're the ones that gain the most from it. They're fresher; they're more prepared and ready to go. Also, for those guys, when you look at it, if they've played 8-10 years in this league, they already know how to professional. They were already getting the right amount of sleep. They're not out running around going crazy because if that happened, you'd get spit out of this league pretty quick."
On having to manage egos at the pro level: "I haven't found that here. The guys here have been fantastic. I mean that may be the case, but with this team I haven't found that."
On treating all of his players differently: "I think you treat everyone differently, you just have to treat them fairly. Every human being's different. You might not have to say two words to Casey Matthews because he may not say two words back to you, but you don't worry about Casey. There are other guys that you need to talk to more than other people, but I think you treat people differently, but you treat them all fairly."
On explaining the "whys" to his players: "No matter what you do, you need to explain the 'whys'. Whether you're new or old, it wasn't like when we did something with Oregon in year four that we didn't explain what we were doing. I think that's just part of it. We're all on the same side. We're all Philadelphia Eagles, and I want to make sure our guys (know) it's not about getting them to buy in, it's about making them understand that if we're going to do something, then there's an importance to it, and if there's an importance to it, then we should be able to explain that to you, not just do it because we said so. What's the benefit of it? Well most of the time when they tell you to be quiet and just do it, then they don't know the benefit of it either. We certainly know why we're doing what we're doing, and when you explain it to people, the 'why' of what you're doing then they understand what we're asking them to do, and then what the benefit that they're going to get out of it is."
On communicating with his players: "I don't understand the concept of communicating through this guy to that guy. If I have something to say to that guy, then I'm not going to play telephone and send it through two other people to get it to him. We talk about communication with everybody, and that everyone has to be able to communicate. They call it hard communication when you're telling someone the truth. They may not want to hear what they hear, but at least we're being honest with them on how we're doing it. But I think part of it is, like I said earlier, is explaining why we do things. I think some of that is overblown of 'Who are the leaders?' and they'll get the message across. I think everyone's got to understand the message. We try to make sure that we're pretty thorough in how we do that, but it's not us telling somebody to tell somebody else to tell somebody that this is how it's going to work."
On whether or not he had to get a certain group of veterans to buy into the new system: "No. I talked to everybody when I got here, and all on an individual basis. I got a chance to visit with every guy on the team before we got together on April 1st, so I think they understood. We weren't allowed to talk football but we could say we're going to do some things, and there's always going to be a reason and I want you guys to understand, and if you don't understand make sure you come talk to us, and just kind of hammering home that communication part. They were great. There was no 'hey, I need to get to these guys to make sure this works'. I think you need to get to all of them."
On the importance of talking to each player individually: "I made a point to talk to each player, and everyone of our assistant coaches talked to every player at their position before they ever got here, just to introduce themselves and tell them where they're from and say 'hey, when we get you in here on April 1st and get a chance to start talking football with you, you guys will understand. But until then I hope you understand that there are open lines of communication, and this is how things are going to operate', and basically the structure of how things would run."
On changing some routines and keeping others: "Whether it's your profession or our profession, if the answer is 'that's how we've always done it', I just want to know the 'why' and a lot of times the 'why' is like 'wow, that's a great 'why'', then we'll do it that way. There are a lot of times when you deal with situations where people can't explain why they're doing it in a certain matter, and then they don't know how to fix it when it breaks. I think you have to have an understanding of what it is. We're not revolutionizing anything, we're just trying to make sure that we're crystal clear in our plan of what we're doing, and that we understand what we're doing , and not just 'why do you do that? Because that's the way it's always been done'. Well is it the right way to do it? I have absolutely no idea if it's the right way to do it. We're just getting to that point of what's the reason, and a lot of times when I ask questions here, there's a lot of things they do like 'that makes sense', alright then we'll continue to do it that way. It's not change for the sake of change. It's change that we believe is necessary change."