Though Chip Kelly hasn't coached against the Dallas Cowboys yet in his NFL career, he does have a slight familiarity with the defense that they run. This Sunday, Kelly will be facing off against Cowboys defensive coordinator Monte Kiffin, who held that same position for the USC Trojans from 2010-2012. Kelly's Oregon offenses averaged 50 points per game against Kiffin, which would appear to bode well for the Eagles, but Kelly says that a lot has changed since the two coaches have moved to the NFL.
"I would say (this defense) is different when you look in terms of what he's trying to do," Kelly said of Kiffin's scheme. "A lot of everything that everybody does is personnel driven, so we're dealing with different players on the Cowboys than he had at USC, so I think he's changed a little bit. He does a really good job of mixing things up. They play a good amount of man and man-free and mix in some cover-two in there and three-deep and four-under, so he gives you a lot of problems in terms of what he presents, but there's not just one thing where you can say 'Hey, it's this and this is what we have to prepare for', because he's pretty diverse in what he's doing coverage-wise."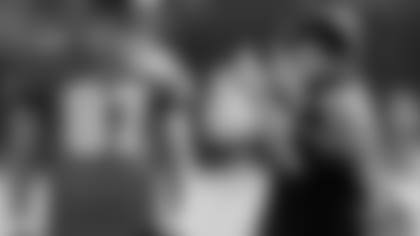 On the other side of the ball, the Cowboys feature one of the most prolific offensive attacks in the NFL, leading the NFC with an average of 30.5 points per game. They also put up 48 points in their loss to the Denver Broncos. Speaking of the Broncos, Kelly was asked if the Cowboys offense was similar in any way to the Broncos team that the Eagles saw three weeks ago.
"We don't compare them to anyone else that we have played," Kelly answered. "Obviously the Broncos have a tremendous offense, but when you've got (Tony) Romo and you also have (Jason) Witten and Dez Bryant, and now the emergence of (Terrance) Williams with Miles Austin being down a little bit, obviously they can do a lot of different things. You just look at their Denver game. It was a hell of a football game, and they can put some points on the board. They do a lot of different things offensively. When you've got an experienced quarterback running the system, it's impressive."
According to Kelly, the success of the Cowboys offense can be traced back to Romo, who does an excellent job of extending plays and getting the ball to his playmakers.
"He's got a great feel for how to play quarterback," said Kelly. "He's got innate ability in the pocket, he's extremely accurate when he throws, but he also has an uncanny ability to just keep plays alive. I think how he moves in the pocket – there are a couple of guys who you don't look at and say 'Hey, that guy has got great feet', but he does. He's similar to Tom Brady in that fashion, where they're always moving and they always just put themselves in the right position to make the right throw at the right time. If you're a student of the game at quarterback play, when you watch him play the position it's really impressive."
Romo may have to play at an even higher level on Sunday, as he will in all likelihood be without starting running back DeMarco Murray, who suffered an MCL sprain against Washington. Without Murray, the Cowboys could have some trouble establishing their run game, which is something with which the Eagles have not had an issue season. Kelly raved about the job that LeSean McCoy has done this season, revealing that even he was caught a bit off-guard by his versatile running back.
"I knew how talented he was, but the one thing that I've learned about LeSean is that he's a complete running back," Kelly said. "You look at him in blitz pickup and some things that go a little bit unnoticed. The Giants brought a couple of blitzes and he stepped up and stoned a linebacker in the hole. I was also surprised with his ability as a receiver out of the backfield. If you are going to play man coverage, someone's going to have to cover your running back. He's a guy that we can create some mismatches with linebackers in this league. I didn't know as much about his ability as a blocker. Obviously, you saw the highlight runs and we've gotten a little bit of a sample size for seeing that, but his ability to be a complete back is what has really impressed me."
Kelly has already taken down two divisional foes this season, and the anticipation continues to build for Sunday's game against the Cowboys. As was the case in the previous two NFC East games, Kelly understands the rivalry, but his preparation does not change.
"We have the utmost respect for every team that we play, and if you don't you're going to lose," Kelly said. "Our players are like that too. Whether it's the Chiefs, Chargers, Broncos or whomever, there's a (level of) professionalism that I kind of like in this league. We respect all, we fear none, but I've never been a guy to get into the whole 'hate' aspect of 'We hate them'… You have to prepare the same way because if you don't you're going to get beat in this league."