Prior to the Eagles' first practice since their Thursday night loss to the Kansas City Chiefs, Chip Kelly met with the media to discuss the team's upcoming game against the Denver Broncos. After a 37-21 victory over the Oakland Raiders Monday night, the Broncos face the short week of turnaround before welcoming the Eagles into Sports Authority Field at Mile High. Kelly and his staff now face the challenge of preparing for the undefeated Broncos and the league's top-ranked offense.
"I watched the Broncos last night and I watched the Broncos this morning," Kelly said. "(It was an) outstanding performance. Offensively, It's very difficult when you see a quarterback playing at that level right now. (Peyton Manning) has a lot of weapons, he's got (Wes) Welker, (Demaryius) Thomas, (Eric) Decker in whatever order you want to put them in. He's got three really good running backs, so it's a tough challenge for us this week."
The Broncos are led Manning, who at age 37 is playing at perhaps the highest level of his remarkable NFL career. He leads the NFL in almost every single passing category, throwing for a league-high 12 touchdowns without an interception. When asked about how to defend Manning and his off-the-charts 134.7 passer rating, Kelly responded that the key is to mix things up.
"The one thing that you realize with Peyton is that you just can't do one thing against him," said Kelly. "He's just such a great mind at the quarterback position. You may say 'Hey, this blitz beat him', but if you beat him the first time on the blitz, he's going to come back and beat you on that blitz. You've got to try to give him different looks, but you've also got to try to make sure that you're disguise isn't a liability where you're so far away from your work that you can't get to your work. So yes we fooled him because he didn't see the blitz coming but we're not close enough to the receiver to now be in coverage. There's that cat and mouse game that's going to go on."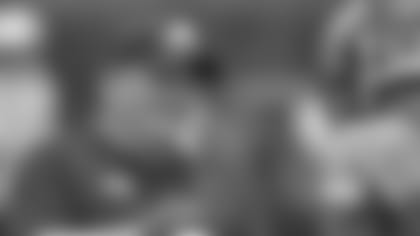 In his second season in Denver, Manning was given a new offensive weapon in Welker, the slot receiver extraordinaire. After spending the previous six seasons with New England, Welker has found himself at home very quickly with the Broncos, finding himself on the receiving end of four touchdown passes. According to Kelly, Welker hasn't completely changed the dynamic of the Broncos offense, but adding his skill set definitely doesn't hurt.
"It's not radically different but you're also talking about one of the all-time great receivers," Kelly said. "I think his ability to control the middle of the field and really create some mismatch problems for you- it challenges you from a personnel standpoint. Do you end up having a linebacker on him? At times that is a big mismatch just because of Wes' athletic ability. To have that type of guy that can play between the two outside guys- Decker and (Thomas) - it really makes it difficult just because of the way he understands coverage. There's a lot of times where you think 'hey, that's pretty good defense' but he still comes up with a big play on it."
Kelly knows that the Broncos represent a great challenge for his team. When asked if playing in the high altitude would also be difficult because of the pace at which the Eagles play, Kelly felt differently.
"What makes a difference when you're playing at altitude is who you are playing against. We played against the University of Colorado a couple of years ago and it wasn't as big of a deal. You play against the Broncos, it's a big deal. It's an anaerobic sport, so it doesn't affect you the way (people) think. We're not going to run a marathon there. I think a lot of it is mental and just understanding that it's not as big of a deal as people make it out to be."
Switching to Denver's defensive side of the ball, the Eagles offense will be playing against an old friend. With Champ Bailey currently injured, former Eagle Dominique Rodgers-Cromartie has stepped up and been the leading cornerback for the Broncos. Even if Bailey returns this week, Rodgers-Cromartie is likely to get significant time covering DeSean Jackson.
"He's doing a good job of covering really close to receivers," Kelly explained. "I think he gives them the ability to play some man coverage. They're not a zero blitz and just leave those guys out on islands (kind of team). There's always a free safety and they've got great help, but he's done a really good job of matching receivers and playing them in really tight man coverage."
Kelly also briefed reporters on the Eagles injury front. Michael Vick and LeSean McCoy are both "100 percent", while safety Patrick Chung is the only member of the team being held out of Tuesday's practice with a shoulder injury.
"(Chung) will not practice today, so we'll see where he is but I know that he is out for today," said Kelly. "He's not in a sling, but I know that he's not going to practice today. I'm a day-to-day guy, so I know he's not practicing today and if he practices tomorrow, I'll make sure that I tell you before we start. Earl (Wolff) will be out there for him."