The Eagles never paid mind to those who said Sunday night's game against the Chicago Bears would "mean nothing" if the Dallas Cowboys beat the Washington Redskins earlier in the day. This was a team coming off an embarrassing, humbling loss to the Minnesota Vikings, playing in front of their home fans under the bright lights in prime time, desperately in need of a bounce back performance and good vibes heading into the final game of the season.
"It was a huge game," quarterback Nick Foles said. "It was a home game, Sunday Night Football against the Bears, a very talented team that's had some great wins this year. It was another opportunity to go out there and play football, and any time you have an opportunity to go out there and play football, it's something special. It was great to go out there and get a team win, guys played well on all sides of the ball. We'll enjoy this for 24 hours and then move forward on to Dallas."
Foles, unflappable as ever, was nearly flawless, completing 21-of-25 passes for 230 yards, two touchdowns and no interceptions for a 131.7 quarterback rating. He led the Eagles on touchdown drives each of their first three possessions, setting the tone en route to blitzing the Bears into submission. It was a total team effort, as the offense benefited from a defense that forced two three-and-outs on the Bears' first two possessions, and a special teams unit that forced and recovered a fumble on the second kickoff.
"It was a great start," Foles said. "I think we scored on three straight possessions. The defense did a great job of giving us great field position. When you can start the game with 21 points and every time your offense is out there you're scoring touchdowns, it allows the defense to do more – blitzes, different things and they really put a lot of pressure on Jay (Cutler) all game.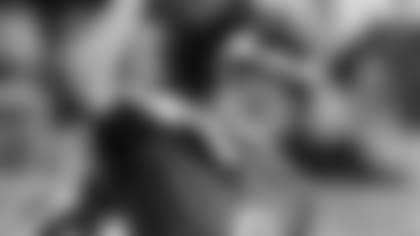 "Donnie Jones, I think, broke the Eagles' record for punts inside the 20 (-yard line). Our defense scored. We ran the ball. I thought the key today on offense was our offensive line. They did a great job in pass (protection), opened seams for the run game. (LeSean McCoy), Bryce (Brown) and Chris (Polk) did a great job in the run game."
The offensive line was firing on all cylinders from the very beginning. Each member mauled Bears defenders in the trenches and out in space on screen passes. The unit also kept Foles clean pretty much the whole game. He had time in the pocket to go through his progressions and complete 84 percent of his passes, a new Eagles team record.
After the loss to the Vikings, Foles spoke about not letting one game defeat him, and not letting one game defeat the team. He spoke of fighting through adversity, working to correct mistakes and bouncing back even stronger. Even in victory his mindset remains the same, and he remembers all too well what happened against Dallas back in October. The win over the Bears is just one more step in a journey that is not yet even close to being over.
"You can't let one game defeat you," Foles said. "If I know anything about myself, I'm going to keep fighting. If I know anything about this team, they're going to keep fighting. You learn from it. You learn from mistakes in games, you learn from games like that and you move forward. The team stayed together, the coaching staff did a great job, everybody at the NovaCare (Complex) did a great job of really keeping the team going. We've built every week. We're continuing to build. We still have a lot of work to do, so we're going to look at this film in a critical way to see where we can improve – if I can make better decisions to put us in better positions, stuff like that. We'll look at the film like we did the Minnesota game. We lost that game, we won this game, but we have to be critical and we have to keep getting better."
Many might say Foles is just being cliché with his answers, but he truly believes in the process set forth by head coach Chip Kelly and his staff. He has seen what it's done for the team, how it has kept them focused and aided their development. What unfolded on the field at Lincoln Financial Field on Sunday night is a testament to that approach.
"We've grown together," Foles said of the 2013 Eagles. "When you have a new coaching staff and you have new players, you're going to have growing pains. You're going to have good moments, you're going to have bad moments, and the key is, how are you going to respond to each moment?
"When the good moments happen, are you going to get too high and then get smacked down, or are you going to stay steady and even-keeled? I think the team and the coaches have done a great job of keeping us even-keeled – keep working every week, they don't slack off. We're going to work hard every week. We know what our preparation is going to be like, it's not going to change. They demand the same amount every week, win or lose. We have to keep pushing, we have to keep getting better. Like I've said before, this is a great place to play and it's an honor to be a Philadelphia Eagle."
The Eagles still have one more mountain to climb before they can put a bow on a storybook regular season. The rival Dallas Cowboys and NFC East division title await.
"I'm just excited to play another game," Foles said. "I'm excited to go down to Dallas and play them. That's a big game. I know what's on the line, everybody knows what's on the line. We have a big week of preparation ahead of us. They had a big win today, coming from behind. We have a big week ahead of us, and I'm excited for the opportunity."