The Eagles added two more veterans in free agency on Wednesday, agreeing to terms with linebacker Eric Wilson and running back Jordan Howard on one-year contracts for the 2021 season. The two add to a free agency group that includes safeties Andrew Adams and Anthony Harris, and quarterback Joe Flacco, all of whom join Philadelphia on one-year contracts.
It's a strategic approach for an Eagles team in the midst of rebuilding the roster in this "transition" period. The bulk of the building is going to come from the NFL Draft, in which the Eagles have 11 selections starting on April 29. As the young players mature, these veterans are hopeful to play productive football in systems they largely understand, at least on a peripheral level.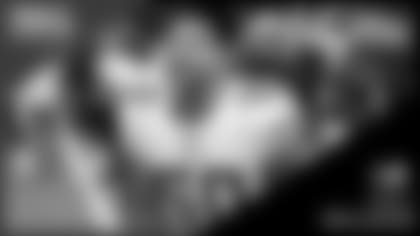 Take Wilson, for instance. He blossomed in his fourth season with the Vikings in 2020, starting 15 games and contributing a team-high 122 total tackles, nine quarterback hits, eight tackles for loss, three quarterback sacks, and two fumble recoveries in his first season as a starter. At 6-1, 230 pounds, Wilson has good size and was a sure tackler in Minnesota who flowed in coverage. Wilson has experience with 25 starts in four seasons, along with 234 career tackles. He's only 26 years old, having worked his way up the linebacker depth chart in Minnesota after signing there as a non-drafted player in 2017.
And with the Eagles' linebacker situation totally open and welcoming competition, Wilson has a chance to earn significant playing time in 2021. The Eagles return young veterans Alex Singleton, the team's leading tackler in 2020, and T.J. Edwards at linebacker. Second-year men Davion Taylor and Shaun Bradley expect to take big jumps in their sophomore NFL seasons. Joe Bachie joined the Eagles late in 2020 from the New Orleans practice squad and played all of 18 defensive snaps. Rashad Smith had 23 reps in two games for the Eagles last season.
Howard is a player the Eagles know well. He is a powerful running back who played well for the Eagles in 2019, gaining 525 yards and scoring six touchdowns while averaging 4.4 yards per carry in 10 games and four starts, numbers held down after he suffered a shoulder injury/stinger that kept him sidelined for six full weeks. Howard then signed with Miami as an unrestricted free agent for 2020 before rejoining the Eagles late in the season. He played in two games in 2020, carrying seven times for 27 yards.
What do the Eagles gain with the additions of Wilson and Howard? That remains to be seen, of course, but these are two veterans who are here to bolster a roster that is going to hit the field for the spring practices – dates to be determined – with open competition. Head Coach Nick Sirianni and his staff are starting with a clean slate, so adding Wilson to a linebacker corps looking for playmakers is a smart, no-risk move. Bringing back Howard, who also spent a few weeks on the Eagles' practice squad in 2020, and his bruising style of running to complement Miles Sanders, certainly makes every bit of sense. The moves don't preclude the Eagles from continuing to address those particular positions, but they fill out the overview of linebacker and running back, respectively. With more to come, likely.
Given the tight nature of the Eagles' positioning relative to the $182.5 million salary cap for 2021, the team has been productive searching for specific help in free agency. Harris, for example, worked with Eagles Defensive Coordinator Jonathan Gannon when the two were in Minnesota, so Harris has a very strong understanding of the scheme Gannon intends to put in place. Adams is a seasoned veteran who will help at safety and on special teams after winning the Super Bowl last season in Tampa Bay. Flacco is a Super Bowl winner, a former Super Bowl MVP, who has been a starter and a No. 2, and he's got a big arm, a winning history, and will compete with Jalen Hurts at the position.
This is how you retool a roster – sprinkle in veterans with an expected large influx of young players acquired through the draft. Wilson fits the mold of a player who wants to make the most of this moment – he's coming off a career year, is only 26 years old with four years of NFL experience, and he's signing late in free agency. Howard was the go-to ball carrier in Chicago for three seasons before the Eagles acquired him in a trade prior to the 2019 campaign, and now he's trying to find a good fit in the league.
There is still good value on the streets, as the Eagles demonstrated on Wednesday. There are certainly no guarantees and no promises with Wilson and Howard, but both represent solid thinking and moves that add to the roster. The NFL Draft is coming fast, but before that, there is more work to be done. Free agency remains open for the Eagles, who are following their offseason blueprint script: Be patient and make good decisions in free agency, add the right fits to a roster welcoming competition in every way, shape, and form.