At his Friday press conference, head coach Andy Reid announced that guard Shawn Andrews isn't recovering from back spasms as quickly as he hoped and that Andrews was listed as doubtful for Sunday's game against the Steelers.
That means third-year guard Max Jean-Gilles may get the start against Pittsburgh's vaunted 3-4 defense, but tackle Jon Runyan said he didn't expect much of a drop off if Andrews can't play.
Having played against Dallas and its' 3-4 defense just five days ago only helps the Eagles.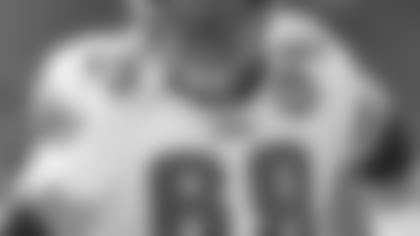 Runyan is confident Jean-Gilles can step in and succeed if called upon
"We are very fortunate that the two defenses are similar," Runyan said. "We're pretty much using all the same rules."
Reid reiterated Runyan's comments, saying he has full confidence in Jean-Gilles.
"We rotate Max in there with the starters every week, so he gets plenty of reps in there in case something were to come up with either guard," Reid said. "We feel very comfortable that he will step in and do a good job for us."
While Andrews was out of training camp because of depression, Jean-Gilles took reps with the first-team offense for most of the preseason. That's one more thing working in Jean-Gilles' favor.
"Max is capable of doing it," Runyan said. "Max took all the reps in preseason and that was pretty much all 3-4 stuff too. He has some experience in it, now we just have to get him up to game speed."
On Thursday, Jean-Gilles said that playing against a 3-4 defense is "way easier (because) we're just fanning out. Our technique is that we're bumping everything out."
According to Runyan, however, Jean-Gilles may face some bigger mental challenges.
"There's a lot more pressure put on him because they're asked to look at linebackers before they actually engage with people," Runyan said. "It makes it a little more difficult. But I will say this, it's a lot less physical initially."
Reid had better news when it came to the status of center Jamaal Jackson, who missed practice all week because of personal reasons. Reid said the coaching staff has been in contact with Jackson during the week and he feels Jackson will be ready to go on Sunday.
"I'm not worried about Jamaal being there even though he missed a few reps here," Reid said. "It's a similar enough defense that he won't be completely lost. He and (offensive line coach) Juan (Castillo) have spent some time together like I said via the phone. Shawn is a little bit more of a concern because of the physical nature of it. We just don't know whether he's going to be able to go or not go and right now he's hurting so we just have to get that answered and then we'll go from there. Again, I think that at both of those positions we have legitimate backup players that can play and that we have a lot of confidence in. Right now, the one I'm more concerned about not playing would be Shawn just to the injury part."