LONDON – While the Eagles went through their Wednesday practice at the NovaCare Complex, one step closer to Sunday's crucial game against Jacksonville (9:30 a.m., 6abc in Philadelphia, NFL Network), running back Jay Ajayi was here meeting the United Kingdom media as part of an exhibition at the Museum of London wearing a thigh-to-ankle brace on his left knee, his season finished. Injured blocking in pass protection on October 7, Ajayi will be part of the team's cheering section on Sunday at Wembley Stadium, not carrying 20 times and slashing through the defense, a hometown hero playing in front of his huge legion of fans.
It's not exactly as he planned it when the schedule came was released in the spring.
Then again, if Ajayi has learned anything in the last 12 months – and he's learned a lot – it's that you have to be strong to survive. Life has a way of dealing cruel twists and turns.
"I just let it all out, tears and everything, after they told me the extent of the injury and I was by myself and I just let go," said Ajayi, after he conducted interviews, one after another, with the British media that hails Ajayi as a sports hero. The exhibition features a beautiful portrait of Ajayi that stands in the museum and a case that holds his Eagles jersey, his Super Bowl ring, a photo of Ajayi on Bank of America Field draped in a British flag shortly after the Eagles won Super Bowl LII, a photo of Ajayi as a young boy with his mother (Kemi) in London in 1997, another photo of Ajayi returning to London over the summer with a Lombardi Trophy, and newspaper clippings after the Eagles defeated the New England Patriots.
It is a wonderful tribute to Ajayi. The problem is, the script is all wrong.
"What's done is done. After that, it's about what's next? How can I make the best out of it? I can only control what I can control and keep pushing forward," Ajayi said. "The ACL tear was clean and that's a good thing. I'll be heading out to California after this game to really get into my rehab. I know I'm going to come back stronger and better. I'm optimistic about that.
"In the meantime, I'm going to be the best teammate I can be. I know this team can still accomplish the goals we talked about in the spring."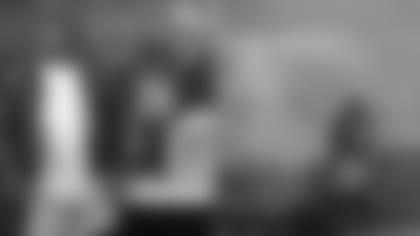 Twelve months ago, Ajayi played for the Miami Dolphins. On October 31, though, Howie Roseman pulled off a big deal, sending a fourth-round draft pick in 2018 for Ajayi, and in seven games down the stretch of the regular season Ajayi delivered with his hard-running, legs-churning style and averaged a whopping 5.8 yards per carry as he gained 408 yards and a score and added 10 receptions for another 91 yards and a touchdown to help the Eagles secure the No. 1 seed in the playoffs. It was a masterful stroke from Roseman to add one of the finishing pieces to the offense.
In the three postseason victories, Ajayi carried 42 times for 184 yards (4.4-yard average), including a bruising 57 yards on nine carries (6.3-yard average) in Super Bowl LII. It's fair to say that the Eagles would have been hard-pressed to win it all without Ajayi. The trade was a terrific move.
Ajayi then reported to the NovaCare Complex for the spring Organized Team Activities in the best shape of his life, hopeful of being the go-to running back he wanted to be. A late-summer foot injury limited Ajayi leading into the regular season and then a back injury sidelined him for a full game against Indianapolis, but Ajayi still contributed 184 yards and three touchdowns on 45 carries before he was hurt in pass protection.
"The guy rushing (Anthony Barr) gave me a little shimmy and I lost my anchor and didn't have any leverage and I heard a pop," Ajayi said. "I went over to get it looked at, did some tests, and it felt fine. I went back in the game and played and it was OK. Then it swelled after the game and we did more tests and found out the extent of the injury.
"Life is full of ups and downs, man. Highs and lows. You can go to extreme highs and then extreme lows right away. It's crazy. You just have to enjoy every moment of it while you're in that moment. For me, it's definitely been a whirlwind. I don't know what the future holds, so I really wish I could have showcased what I could do. I know my season's over. I wished I could showcase to the Eagles what kind of player I am. I felt I was just getting to that point where I was feeling my best. It makes me sick not being out there with those guys. I understand what we're trying to accomplish. It hurts me that I can't be out there helping the team. I can only be a great supporter for the team and stay in touch with the guys and let them know that I'm with them all the way."
"The face of London football" as only the fifth British-born player to win a Super Bowl finished the interview. He was handed his set of crutches and he walked away from the exhibition, looking back once more with a head shake and a smile of satisfaction. What could have been an exhibition of the returning NFL hometown hero instead, well, it wasn't quite the same, was it? Ajayi moved slowly across the lobby toward the front door.
"See you Sunday at the game," I said, shaking his hand.
"Can't wait. The guys are gonna love it here. The fans are hyped to see the Super Bowl Champions. There are going to be a lot of Eagles fans there," he said. "It's going to be electric."